Juventus: Fans respond to claims that Ronaldo will be fined for leaving stadium
Many Juventus fans have had their say on Twitter regarding rumours that Cristiano Ronaldo could be fined for the club for leaving the stadium after being substituted.
Should Cristiano Ronaldo apologise for his behaviour?
Yes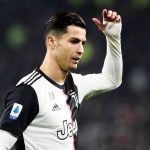 No
Ronaldo was subbed off by Maurizio Sarri during Juventus' 1-0 win against AC Milan in the 55th minute, while the score was still stuck in a stalemate.
The sub seemed to work for Juve though, as with 13 minutes to go substitute Paulo Dybala scored the all-important goal for Juve for them to remain top of Serie A after 12 matches – dropping just four points.
According to fan Twitter account @ForzaJuve2019, there were reports from Italian outlet La Stampa that suggested that the club would fine the player upon his return from international duty and that he will have to clarify exactly what happened, with reports from Sky Sports suggesting that he left the stadium early.
Many fans had their say on Twitter, with a pretty varied response. Some suggested that Ronaldo should be allowed to leave the club, while others said that they would be daft to let him go, stating that the rest of the squad have been poor as well.
Here are some of the responses below…
They won't fine him. This newspapers are making controversy

— MOHAMMAD FAROOQ (@Farooq032) November 11, 2019
He left the whole stadium, Dybala didnt do that. You can go into the dressing room if you want but you can't leave the stadium. Besides it's obvious Ronaldo no longer wants to be here, he'll be gone soon. It's best for both sides.

— Artan (@Artan2019) November 11, 2019
Nothing will happen

— prashant (@its_prashant27) November 11, 2019
Dybala did the same and nothing happened?

— ⊝ (@lconicJames) November 11, 2019
Might as well sell the whole team lmao…if you watch the game last night, apart from that play that lead to a goal, whole team played horrendous throughout the match…and its not just yesterday…its been a couple of consecutive games…

— Charisma (@CharismaGaming7) November 11, 2019
We were much better with out him

— The Real Mohamed (@TheRealMohamed7) November 11, 2019