Sunderland: Fans unhappy with Callum McFadzean's first-half display
Sunderland are in action against Blackpool as they look to close the gap to the top two in League One, but the fans were far from happy with the performance of Callum McFadzean during the first half.
The Black Cats are in desperate need of a win if they want to earn automatic promotion to the Championship. Not long ago, their fate was in their own hands, but 2-1 defeats to Charlton Athletic and Wigan Athletic means they are now five points behind Peterborough with just five games left after this one against the Seasiders (BBC).
In the first 45 minutes, McFadzean struggled at left-back. He picked up a yellow card just 18 minutes into the match, meaning he must walk a tight-rope for the rest of the game. Lee Johnson will be hoping he does not do anything silly to get himself sent off and put his team under immense pressure.
Was McFadzean the worst player on the pitch in the first half?
Yes
No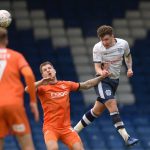 The Sunderland supporters weren't best pleased with what he had to show early on, and they took to social media platform Twitter to share their thoughts.
Let's see what the fans had to say about McFadzean below
"Ok take him off"
Credit: @ManixKnows
"take him off"
Credit: @DeanoCummings85
"Typical"
Credit: @AstroMackemTech
"Of course"
Credit: @KINGMAGUIRE1
"First yellow of the game and it's for McFadzean. Looks like his man just gets the wrong side of him and he goes down, don't think their man was ever getting there but still shouldn't be getting caught out like that so easily."
Credit: @ALS_Fanzine
"Controlled the game for large parts, poor in the final third again, mcfadzean waste of a shirt"
Credit: @jonny8686
In other news, Sunderland fans love news on this ace.