Tottenham: Fans react to Levy comments
Tottenham and the other 19 sides in the Premier League are gearing up for the return of top flight football in England this coming week.
Aston Villa will host Sheffield United in the first match back after the season was suspended due to the current pandemic. Spurs, meanwhile, return to the action on Friday, when they will welcome Manchester United to the Tottenham Hotpsur stadium.
Whilst football may be back, though, it will be like nothing supporters have seen before – mainly because there will be no fans allowed into the stadium.
Obviously, this is not a long-term option, and Daniel Levy appears to be leading the way in an attempt to get fans back into the stadium as soon as possible. According to The Daily Mail, Levy has told the government that they can use their stadium as a test venue in an attempt to once again fill up the country's stadia.
Do you back this move by Levy?
Yes
No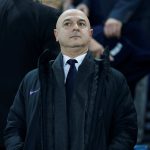 His comments have attracted plenty of attention from the club's supporters, and they are clearly far from happy with what he has said – they appear to believe it is nothing other than an attempt to make money. They have taken to Twitter to share their thoughts, and you can see some of the best comments from the social media platform below.
Social Responsibility …. yet furloughed staff. DL is a nasty piece of work. Our whole Exec Team are rotten to the core!

— Stuart Lawless (@SJLawless1986) June 13, 2020
Be nice if he put equal investment into the team to make IT one of the best in the world.
Just interested in global sponsorship and recognition.

— Bruno Cook (@bruski1958) June 14, 2020
Translation, "we need to get the money rolling in so I can award myself another huge bonus".

— John Wardell (@oldjdub) June 13, 2020
Levy need them checks to come through so he can rid us of his debt that he created. Imbecile. Then ENIC needs to sell.

— Dennis Mayfield (@DenIntheBardo) June 13, 2020
He'd sell his granny jas

— jdk (@jjaerus) June 13, 2020
The cash needs to be rolling in

— THFC1976 (@THFCsince76) June 13, 2020
Let us know what you think!