Sky Sports journo offers Giovani Lo Celso verdict
Sky Sports journalist Michael Bridge insists that he has no idea whether Giovani Lo Celso will end up being a success at Tottenham Hotspur.
The £30m midfielder has struggled for rhythm at Spurs since his arrival from Real Betis.
The Argentina international has been with the club since 2020 and has made a total of 69 appearances, with 42 being starts.
Should Lo Celso start for Spurs?
Yes
No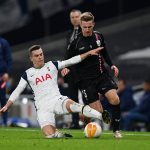 However, he has completed the 90 minutes just 15 times, and Bridge remains confused as to what Lo Celso's best attributes are.
He played 13 minutes in the opening game of the season against Manchester City, a 1-0 win, and 23 minutes against Wolves, another 1-0 win. He was on the bench against Watford last time out.
And Bridge insists that he needs a consistent run of games if he is to prove his worth, and is frustrated that he plays so much for Argentina as opposed to his club. Lo Celso has won 25 caps for his country.
He said: "I banged this drum last season and people were coming to me and going 'oh what about Ndombele', 'oh what about Lo Celso'?
"I think my problem with Lo Celso at the time was that I didn't know what he actually was. I'm still not convinced, I'm not actually sure, because he plays more for Argentina than he does for his club.
"Until he gets a run in the side, 10 games in a row, I don't know whether that will ever happen, I can't even decide what he actually is."