Tottenham Hotspur: Alan Hutton claims Brendan Rodgers would be interested in Spurs job
Alan Hutton has claimed that Brendan Rodgers would be interested in the Tottenham Hotspur job.
The Leicester City boss remains high on the shortlist at Spurs to lead the way from the start of the 2021/22 term despite Ryan Mason taking temporary charge until the end of this campaign.
Speaking to Football Insider, Hutton believes that Rodgers will have the Lilywhites job at the back of his mind despite the success that he has had with the Foxes so far:
"You look at Leicester. They're top four with a brand new training ground as well.
"Arguably, just as good a squad. I understand obviously Tottenham have got the likes of Harry Kane, Bale sitting there.
"I think, if you're a manager, it's still a massive lure to go to Tottenham. They are a huge club, everybody knows that. They've got the quality within the squad to really hit a high level.
"Yes, they aren't at the moment but if they get the right person in charge to take care of them, I think they could be very good. It's always there, probably, in the back of his mind, Brendan Rodgers.
"Yes, he's got a plan and he is trying to implement that at Leicester but it's a big draw if Tottenham come calling.
"It'll be an interesting one. I can't really see him leaving Leicester at the moment but he'd definitely be interested if Spurs made their feelings towards him (known)."
Rodgers perfect for Spurs
If the North London club had the opportunity to hire Rodgers as their next permanent coach, they should be jumping at the opportunity with both arms.
Should Tottenham hire Rodgers?
Yes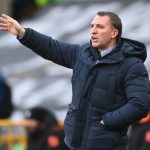 No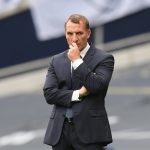 Quite ironically dubbed as a 'talented' (via Daily Mail) manager by none other than Jose Mourinho back in December, the Northern Irishman certainly knows how to thrive in the Premier League, with LCFC currently sitting pretty in third spot in the top flight after a very convincing 3-0 home win over West Brom, while he was also close to winning the title back in his days managing Liverpool.
Guiding Leicester to an FA Cup final and also proving he knows how to add silverware to quality football during his time in Glasgow, Rodgers could be the man to finally deliver trophies for THFC, if they can lure him away from the East Midlands of course.
In other news, find out what Mourinho told his players after his sacking here!