Tottenham Hotspur: Gold drops claim on Mourinho's plan after Alli development
In a recent article for Football.London, Tottenham Hotspur reporter Alasdair Gold discussed one of manager Jose Mourinho's plans to turn the north London club's form around, which concerns Dele Alli.
This comes after Spurs have been on a poor run of form, losing each of their last three games.
What is the latest on Alli's situation at Tottenham Hotspur?
Alli was keen to leave the north London club in the January transfer window, while former Tottenham boss Mauricio Pochettino's Paris Saint-Germain were interested in signing the 24-year-old attacking midfielder on loan.
However, that move ultimately didn't end up happening and Alli remains at Spurs, where it may be fair to say he hasn't played a prominent role this term. The Englishman has played just 4% of all possible minutes for Mourinho's side in the Premier League during the 2020/21 campaign.
As explained in this report from Football.London, 'Mourinho was not too bothered' by the prospect of losing Alli last month. However, it has now emerged that 'the narrative has changed' around the player and 'Mourinho has shown signs of compromise,' as he had a 'bridge-building conversation' with the £34.2m-rated man this week.
Mourinho's plan for Alli
In a tweet sharing this article, Gold claimed that this development of Mourinho's renewed outlook on Alli 'could save Spurs' season.'
He elaborated on the manager's plan in the report for Football.London, explaining that when he feels the Englishman is fit enough, he will return to Spurs' starting XI 'to play in the number 10 role' behind Harry Kane – a move that Gold has claimed 'could turn Spurs back into a goalscoring and creative unit.'
Are you excited about this plan?
YES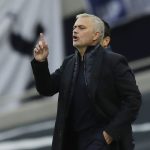 NO
So, it will be interesting to see how long it takes Alli to get fit enough for Mourinho's liking and what role he actually does play in the Lilywhites' first-team for the rest of this season.
In other news, Kieran Maguire has criticised Daniel Levy for his January negotiation tactics with PSG over Alli.