Tottenham: Sky Sports man hails Nicolo Zaniolo as devastating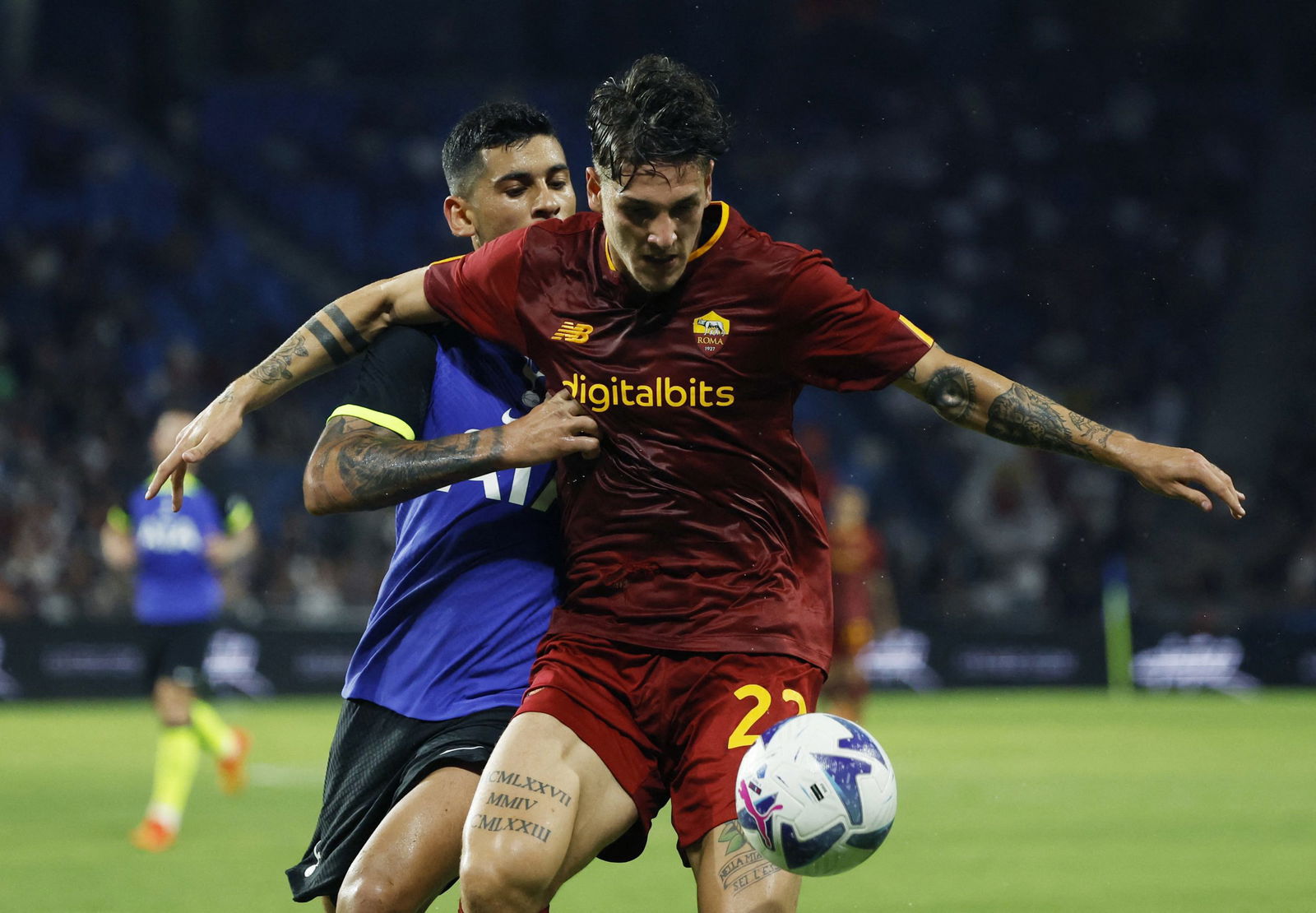 Nicolo Zaniolo is reportedly a transfer target for Tottenham Hotspur – and Sky Sports man Nubaid Haroon believes he would be a great fit for Antonio Conte's side.
The Lowdown: Conte wants to be backed
Despite Conte's public pleas to Daniel Levy and the Tottenham board that he needs to be backed in more transfer windows if the club are to be pushing at the right end of the table and looking to pick up silverware.
Spurs are yet to make a breakthrough in the transfer market which won't have the Italian manager very happy, although according to reports out in Italy they are said to have lodged a bid for Roma ace Zaniolo. And, according to TMW, Spurs are the most likely destination.
It was reported last summer that Spurs were keen on Zaniolo, who'd just netted in the Europa Conference League final and while nothing ever came to fruition, that could soon change.
The Latest: Zaniolo would suit Conte
Given that Zaniolo is a player that's extremely versatile and can play in a number of positions he would be someone that Conte would likely love to have and that's what Nubaid Haroon has been speaking about live on Sky Sports.
He said: "He comes in as this sort of attacking player/second striker sort of role, maybe a little bit too similar to Son in terms of positioning in this Conte system, but when he first came on the scene in Italy, he was heavily built as the future star of Italy and then he's had a few injuries at Roma, few off-the-pitch issues.
"I think he's now ended up being a little bit of a villain for Mourinho and for Italian fans in Rome, he probably needs a change of scenery. I think if you can bring someone like this in that Conte system, he's devastating on the counterattack.
"I think back to the Atalanta game last season when he and Tammy Abraham tore Atalanta to shreds because he has got this ability to pick a pass and he can see things that other Spurs players probably can't at the moment.
"I do wonder how much game time he would get, and if you pay £35m for a player, he's going to have to play, but it is a Conte sort of player and a Conte sort of signing."
The Verdict: Levy must seal the deal
If Levy wants to sign a young player with potential and for a low fee, while also handing Conte someone he will know from his time out in Italy so would likely trust, then Zaniolo is the perfect player for him.
With reports claiming that Roma are indeed open to selling Zaniolo, even on an initial loan deal, that should be exactly what Levy needs to hear to get this deal over the line and hand Conte another attacking option.
However, one thing that could be a big worry for Spurs and suggest why they may be coy on moving for Zaniolo is that he has a shocking injury record for someone so young, but with a loan deal option on the table, Spurs could essentially try before they buy.