Exclusive: Football finance expert says West Ham do not need to sell Declan Rice
West Ham are under no pressure to sell Declan Rice this summer, football finance expert Kieran Maguire has told The Transfer Tavern.
Rice continues to be linked with a move to Chelsea, with The Telegraph claiming that Thomas Tuchel is a fan of the player, while Fabrizio Romano claimed on his 'Here We Go' podcast, via Give Me Sport, that Chelsea are in talks with his representatives.
Last year, it was reported that West Ham owed £70m from player transfers, which may sound worrying to some supporters.
Are you taking Abraham plus cash for Rice?
Go away, Chelsea!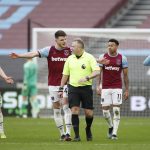 Do it if Rice wants to leave
However, after borrowing money over the last 12 months, Maguire is confident transfer fee issues can easily be addressed without having to sell key assets.
"No, I don't think they have to sell," The Price of Football author exclusively told TT. "They have borrowed money over the course of the last 12 months, so that will allow them to deal with those transfer fee issues.
"If they choose to sell, it's because somebody comes in with a really good offer for Declan Rice. They won't be in a firesale or liquidation sale environment, where you're desperate to sell in order to keep the bank manager happy, so I think they're in a strong position this summer."
It is great news for manager David Moyes, who will not want to lose any of his star players after such a successful season.
The Hammers, of course, were able to qualify for the Europa League after finishing sixth in the Premier League table, and the Scotsman will surely be hoping to build on that and make sure it was not a one-off.