Exclusive: Palmer's verdict on Bowen's West Ham future
Former Premier League star Carlton Palmer insists that Jarrod Bowen should stay at West Ham United amid links elsewhere.
The winger has been touted as a potential target for a number of clubs, including Liverpool and Tottenham Hotspur.
Bowen has, of course, enjoyed a fine start to the season, with David Moyes' side competing on multiple fronts after qualifying for the Europa League last term.
Can you see Rice & Bowen leaving next year?
Yes
No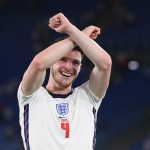 The winger has made eight appearances in all competitions and has provided an assist, while also occupying defenders with his pace and trickery.
Bowen is tied to a lengthy contract with the Hammers that runs until 2025 and he is valued at £27m by Transfermarkt.
And Palmer thinks that Bowen would be best served by remaining in east London as he looks to take the next step and reach a level befitting a move to an elite club.
He said: "When you've got players that are doing well, obviously clubs are going to be interested. That's par for the course. But where does Jarrod go? He's playing at West Ham, they're a top-six side, so the only place he's going to go, if you go off last season, you're looking at Man City, Liverpool, Man United, Leicester City, there's your top five clubs, so where's he going to go?
"And you're playing week in, week out at West Ham. For me, I think you sit tight. You sit tight, you're playing football, carry on doing what you're doing. He's 24, he's a young player, just carry on getting the experience and playing. When you leave to go to a big club, you need to play, you don't leave to go and sit on the bench.
"That's what you should never do. So he just carries on playing at West Ham. They had a fantastic season last season, they've started well this season, there's no need to be thinking about a move."
In total, Bowen has made 61 appearances for the Hammers, scoring nine goals and laying on 11 assists.