Wolves exclusive: Steve Bull warns Adama Traore will only leave for a top-four club
Former Wolves striker Steve Bull has warned potential Adama Traore suitors that the 25-year-old will only leave Molineux for a top-four club.
Traore has been heavily linked with a move away from Wolves, with one Premier League rival said to be very keen in particular.
According to Eurosport, Leeds United have a long-standing interest in Traore and are willing to pay up to £40m for the player this summer.
Would you like to see Traore up front?
It could work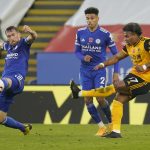 No, he's a winger
The same outlet reports that Wolves value Traore closer to the £80m mark, which may come as a shock to Leeds given his goal record and the fact that he has just two years left on his contract.
Whatever the case, Bull cannot see the Spanish winger moving to a club that is outside of the top four. He told TT in an exclusive interview:
"He's too good to play for Leeds, put it that way. That's no disrespect to Leeds. I think if he's going to go anywhere, he's going to go to a top-four club or he'll go back to Spain, or Italy or Portugal – he's a talented player."
As well as Leeds, Chelsea are also said to be interested in Traore, with The Telegraph reporting that he is one target for Thomas Tuchel, so perhaps a move to a top-four club could be on the cards.