Celtic: Financial expert reveals impact of McKay joining early
Football finances expert Dr Rob Wilson has recently talked about the impact of a new Celtic CEO on the club's shareholders.
Dr Wilson was talking to 67HailHail and the expert was asked numerous things about the finances involved with the Hoops' off-the-pitch rebuild, with Dominic McKay in particular at the centre of discussion.
McKay was initially expected to take over at Parkhead later on, but he's already taken up the office even though Lawwell isn't retiring from his position until the end of the current campaign.
Positive claim made about McKay appointment
When talking about the benefits of the appointment of a new CEO, Dr Wilson said that because McKay has come into his job earlier than expected, it could lead a share price increase for the Bhoys. He revealed that any change in CEO is likely to bring about positivity in the market for the club and the same could apply for the Bhoys.
Are you confident about Dominic McKay?
Yes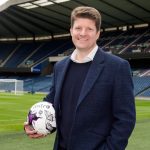 No
Dr Wilson stated: "It absolutely would. If a new CEO is coming in and they have proven pedigree or their reputation is strong in the market, that will always help support a share price improvement. Or, conversely, if the CEO is not fancied by the market that lead to a reduction.
"Any handover period is normally received positively. It allows you to maintain some of the current trajectory, look at the strategic plan and keep things moving in the right direction.
"It gives that person the opportunity to understand the business whilst not having full control. That change-over period can be quite beneficial sometimes."
McKay coming in early should be a big positive
While Dr Wilson believes that McKay's early entry at Parkhead could well help the Bhoys as a club from a business perspective, it perhaps shows McKay's willingness to get into the role early and make an impact straight away on the football side of things too.
Eddie Howe reportedly had an agreement in principle with the Hoops, but he has made demands to the club before taking over, so McKay already has his work cut out for him solving that situation.
Other than that, the Hoops are set to undergo a major overhaul in the summer anyway and it won't be long before the early stages of European qualifying kick off the new season, so McKay getting a head start is absolutely a huge boost for the club.
In other news, 'Bound to be interest' – Claim dropped on Celtic star; Hoops phone could be 'off the hook'