West Ham United: These fans loved Declan Rice's England contribution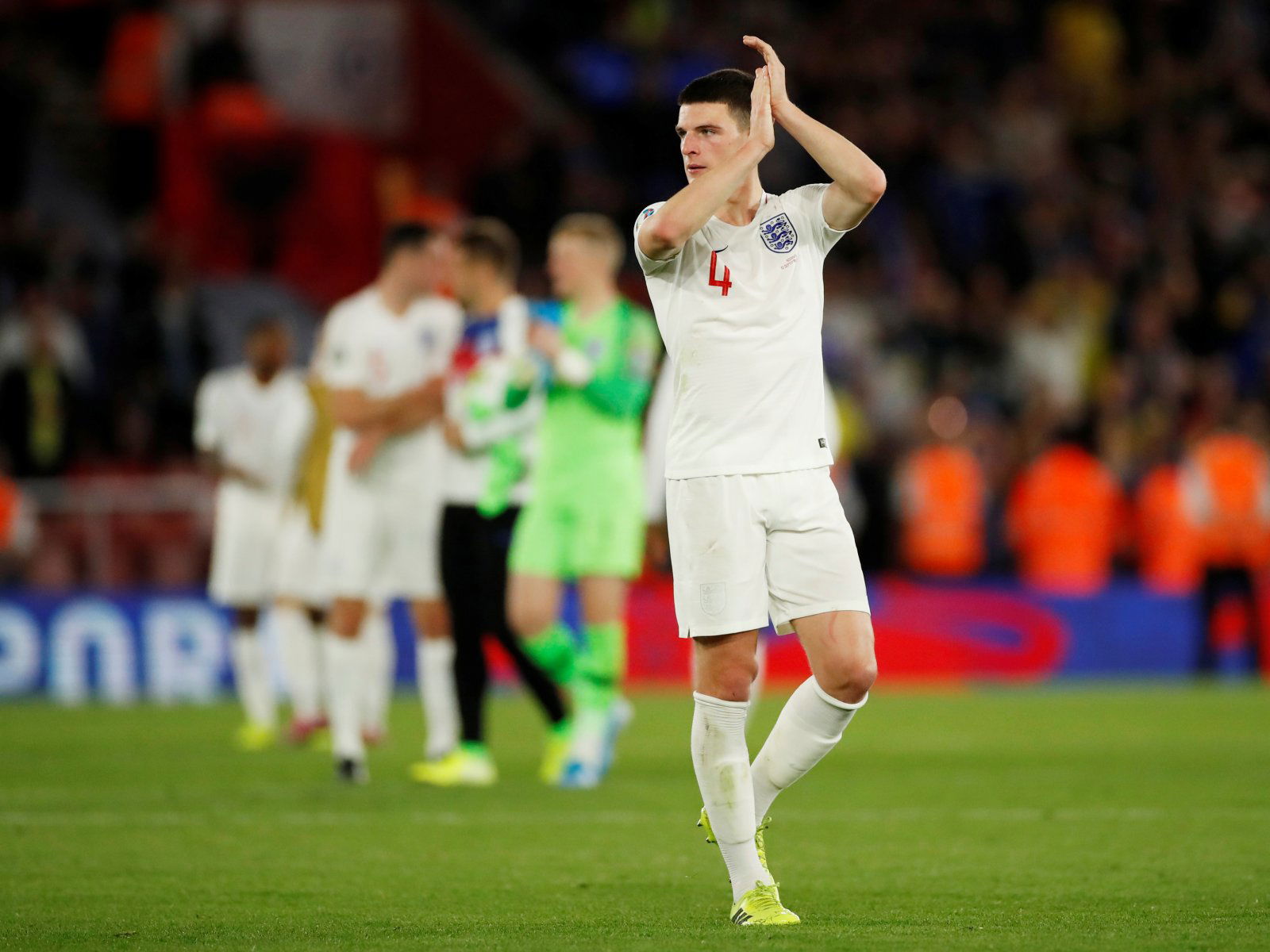 Some fans will look at West Ham United midfielder Declan Rice's misplaced pass, that started the move which led to Kosovo's second goal, as the main moment of his performance.
However, Hammers fans have put their focus on a very different moment in the game, which puts the 20-year-old in a far better light.
ExWHUEmployee was among those to tweet about Rice's brilliant piece of play:
That goal is exactly why @_DeclanRice is in the team. Won the ball with a great tackle, set the play going and we score. No need for FIFA 360 degrees turns, flicks and skills but job done. Simple and effective

— ExWHUemployee (@ExWHUemployee) September 10, 2019
The moment in question is what led to England's fourth goal, as he pressed Bersant Celina well and eventually made a great tackle.
This allowed Jordan Henderson to make a pass to Raheem Sterling, who then raced up the pitch to assist Jadon Sancho for his first-ever England goal, as shown on Sky Sports Football's YouTube channel.
It was a quiet moment which was overshadowed by the other parts of the build-up, but was vital all-the-same, a summary that could be applied to many factors of his game.
That wasn't Rice's only encouraging contribution though, as he completed 91% of his passes, 4 clearances, 3 interceptions, 2 tackles and 1 block, as per SofaScore. Operating in the defensive midfield role – one often filled by Eric Dier for England in recent years – it seems the fact the player has ousted a Tottenham man in terms of a starting berth for the Three Lions has gone down well, too.
Of course, West Ham fans loved his contribution and one even compared him to Sergio Busquets, which isn't exactly a surprise as fans have dubbed him as the 'Basmati Busquets' in the past, as well as Manuel Pellegrini urging the midfielder to model his game on the Spaniard (as per West Ham's official website).
A selection of Twitter reaction to the tackle can be seen below:
Exactly that!

— Vincent Bean (@VincentBHammer) September 10, 2019
He's exactly what England needed, massive upgrade on Dier. Extra points that he's forced out a spurs player.

— Nathlaaar (@Nathlaaar) September 10, 2019
Just about to say the same thing. Anyone questioning Rice, watch the Sancho goal again. That role is vital in any side and it is rare to see someone so young play it so fantastically well.

— G (@gdizzle1981) September 10, 2019
The lad is playing superbly quietly and effectively going about his business

— danny cornish (@fantasybandido) September 10, 2019
Considering he's doing the job of the anonymous European Champions Captain as well as his own the 20 year old Hammer ain't doing too bad is he ?

— Marc Allen (@sarfender123) September 10, 2019
In the future he will be the key base to allow this attacking England team to play. Got no doubts he will become England captain.

— Gavlar (@Gavlar20) September 10, 2019
Bro anyone who doesn't watch West Ham has absolutely no idea how vital Rice is. Honestly big claim to make but he's so similar to Busquets.

— SAMMY M (@Lazy_Shit_) September 10, 2019
Superb first half

— West Ham Away Days (@west_ham_olas) September 10, 2019