Celtic: Fans ridicule Adrian Durham's comments about Fraser Forster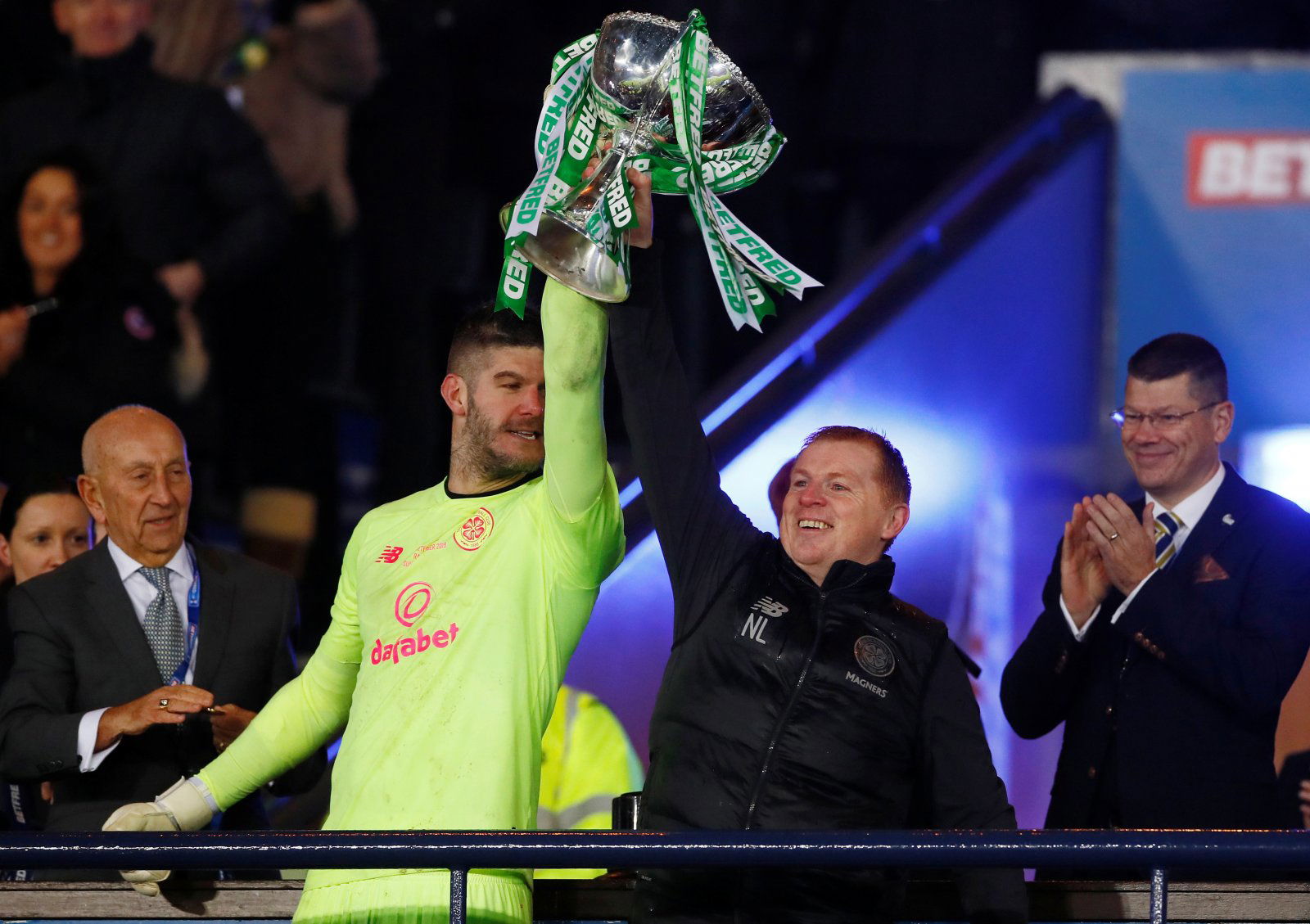 Fraser Forster's presence in the Celtic team had talkSPORT pundit Adrian Durham hot under the collar when speaking after Sunday's Betfred Cup final.
The 31-year-old goalkeeper, who is on loan at the Hoops from Southampton, saved a penalty from Alfredo Morelos and made several other important stops in Celtic's 1-0 win at Hampden Park, as per Sky Sports.
Speaking on talkSPORT afterwards, Durham claimed that the Saints were still paying more than half of Forster's £70,000 weekly wage, adding that Celtic should not be allowed to use him if they "can't afford to pay his wages", a situation he described as "blatant cheating". [via @talkSPORT]
https://twitter.com/talkSPORT/status/1204117257644912648
He went on to insist that Southampton should be allowed to keep the trophy for six months due to the portion of Forster's wage that the pundit claims his parent club are paying.
It wasn't just the Hoops who fielded on-loan players in the cup final – Rangers brought on Jermain Defoe, a loanee from Bournemouth, in the 71st minute.
These Celtic fans on Twitter hit back at Durham over his post-match comments:
@talkSPORTdrive_ Adrian's Tears are delicious. pic.twitter.com/mWQIFumc8g

— Botty Bolingoli (@BottyBolingoli) December 9, 2019
This guy is feeling the pain and remains desperate for attention . He's always been anti Celtic, always anti Scottish football and always been a good example of why talk sport has little relevance in Scotland . It's brilliant to see him in so much pain

— Mick McMichaels (@beeeley) December 9, 2019
Hi Adrian. Just a friendly reminder that former England international and good mate of the "almighty" Steven Gerrard, Jermaine Defoe is in-fact a Bournemouth player who is ON LOAN at Rangers with the English club paying a meaty portion of his wages.

Hope this was helpful.

— ᴘʜɪʟ ᴍᴄɢɪɴʟᴀʏ ⭐️ (@philbertosilva) December 9, 2019
And Defoe is on how much? Yet couldn't win it for Rangers….

Enjoying the pain, keep it up 👍

— Spalding-Hoops🍀🍀 (@Spalding_hoops) December 9, 2019
Has nobody explained to Durham how loans work?? As usual this rediculous rant is nothing more than childish attention seeking. Little wonder I can't bear to listen to him..

— Ker Anderson (@Ker_Anderson) December 9, 2019
I really hope @CelticFC take a defamation case against you personally and your station.

You are a liability in every sense of the word!@CelticFCSLO @CelticTV

— Celtic Nation – Bolingoli Chapter (@CelticNation67) December 9, 2019
Do you think Durham's comments about Forster were out of order? Let us know your thoughts by commenting below!