Celtic: Fans struggle to contain excitement as PSG are given Ligue 1 title
A lot of Celtic fans are excited after the Daily Record tweeted out that French side Paris Saint-Germain are set to be crowned champions of Ligue 1.
PSG are poised to be given the Ligue 1 title after the French government ruled the season had to end early due to recent events.
Would it be fair for Celtic to be given the title?
Yes
No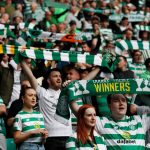 It was confirmed this week that French football will not complete its 2019-20 season, and a meeting was held on Thursday morning to formally end the campaign.
It was then recently reported by Sky Sports that PSG, who were 12 points clear of Marseille and also had a game in hand to play, have been crowned champions.
Currently, Celtic are in a similar position, as they are 13 points clear of arch-rivals Rangers, with Steven Gerrard's side having nine games left to play whilst the Hoops have eight, via BBC Sport.
Clubs in Scotland are fiercely debating what should happen with the league, and there are plans to abandon the top division and giving Celtic the title whilst relegating Heart of Midlothian, per The Guardian, however Rangers have been against this idea.
For now it is still unknown what will happen but if other leagues start to copy Ligue 1, then it looks likely Celtic will be awarded the title.
Here is what fans had to say following the tweet, with one perhaps jokingly suggesting that Chief Executive Peter Lawwell had been "spotted in Paris":
BREAKING! Paris Saint-Germain to be crowned champions as Ligue 1 set Celtic title precedenthttps://t.co/5UJkjzVyVR pic.twitter.com/JDe1lTvOzc

— Daily Record Sport (@Record_Sport) April 30, 2020
— Stephen Wray* (@TheBhoyWray) April 30, 2020
YO HO HO AND OFF WE GO pic.twitter.com/W81TzMPuYv

— Patryk SZN (@CellicFC) April 30, 2020
— Tryspire (@ShawGerry) April 30, 2020
But… But… But… PSG showed class and wouldn't take it we were told pic.twitter.com/GyrU8Xlt5y

— celtic for 10 (@eddie410inarow) April 30, 2020
Aye but it tainted because the rangers were not in it. 😂😂

— KeefJackass (@ScotsIrishCelt) April 30, 2020
Remember to clap at 9pm tonight for #9IAR.

— Robert King (@rkingphoto) April 30, 2020
The right thing to do no way they were going to be caught. Congratulations PSG worthy winners.

— martin (@martibhoy5797) April 30, 2020
I feel a statement coming!!! pic.twitter.com/rnbwWi7UPr

— Paul Dee!!! 🍀🍀 (@paulodunx) April 30, 2020
peter lawwell was spotted in Paris early this morning. this guy certainly knows how to reach out. proud of u big man. ✊🍀🇮🇪🏆

— 🏆🇮🇪WE WON THE BIG CUP🇮🇪🏆 (@won_cup) April 30, 2020
Celtic fans, do you think the Scottish League will follow suit? Comment below!