Celtic: Fans turn on Sky after Kris Boyd comments on Leigh Griffiths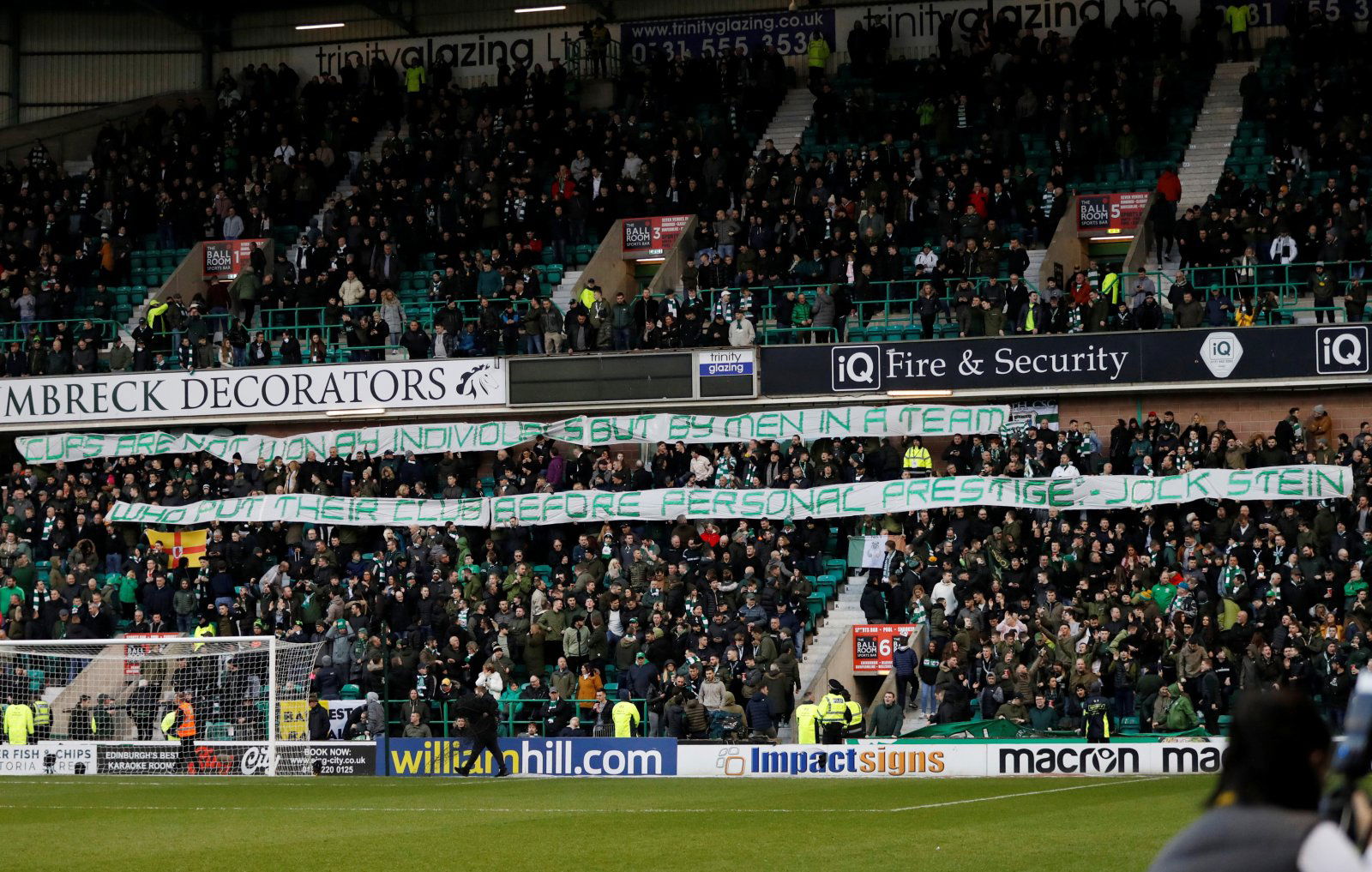 Celtic striker Leigh Griffiths was hammered by Sky Sports pundit Kris Boyd on Wednesday night following his pointed goal celebration and reaction after being substituted.
Boyd had previously said on  Sky Sports [via The Scottish Sun] that the 29-year-old had four weeks to save his Celtic career and, after the 29-year-old scored against Kilmarnock in midweek, he made a 'shush' gesture towards the press gantry where the pundit was sitting. Upon his withdrawal later in the game, the Hoops striker removed some sock tape and threw it in the general direction of home fans at Rugby Park, sparking an angry response from one spectator (as per Daily Record).
Speaking on Sky Sports [via The Scottish Sun] after the game, Boyd accused Griffiths of "not doing it on the training field" and added: "Never mind coming for us, go and do it yourself. Perform on the pitch, score goals and actually get back to the level that you should be playing at". He also said that the Celtic man's tape-throwing response to being taken off was "not right either".
Boyd's ongoing spat with Griffiths comes despite him having his own mental health foundation, the Kris Boyd Charity, and the 29-year-old Hoops attacker putting his career on hold for several months last year due to a battle with depression (as per BBC).
Following Boyd's scathing remarks, these Celtic fans centred their dissatisfaction on Sky for hiring him, with some supporters calling for a boycott against the broadcaster:
I pay for sky sports also in a contract with so many months left but last night made my mind up to not renew it. Why? Because while I am paying my bill am also paying kris Boyd wages who thinks it's good to pull people who's suffered mental health problems @skytv @SkySports 😡

— celtic jaime 🍀 (official account) (@jaimelawson08) January 23, 2020
It is clear @SkySports need to reflect on the pundits chosen for its scottish games. Kris Boyd's hatred of all things @CelticFC does not make him a suitable member of any media team covering our club. HH pic.twitter.com/C4R6tBbnJE

— Celtic Gossip (@CelticGossip) January 23, 2020
It was a total embarrassment for himself and @SkySports . It wasn't just what he said but his angry and vindictive tone. He should be no where near commenting on Celtic.

— James Lally (@Golfbhoy1888) January 23, 2020
Last night the Pundits were an Ex Rangers n Killie player and a Killie fan n ex boss🤷🏼‍♂️ Pundit lineups are always 50/50 to each side to any debate can be had n an equal view into each team given….
Boyd was anti Celtic fae the word go n no counter argument was given🤔🍀 Shambles!

— Dom Shv7 🍀🏆🍀 (@Shiv1888) January 23, 2020
No Celtic fan should be giving @SkySports a penny. We've cancelled subscription already.

— Eileen Martin (@Eileen25may) January 23, 2020
He is an awful pundit! How Sky continue to employ him is baffling, he is useless at his job and his hatred of Celtic is obvious on every show!

— Ronnie Mageean (@Ronniemageean) January 23, 2020
Easy solution don't pay for Sky.

— Stevie TC🏴󠁧󠁢󠁳󠁣󠁴󠁿 (@StevieTC1) January 23, 2020
Currently waiting on a phone call from sky
They Want 2 buy my virgin media contract out so I can freely subscribe 2 they're service
Won't B having sky while they treat our club & players with contempt they're coverage of our game is pathetic

— Colin Rodgers 🍀 (@colnrodgers) January 23, 2020
Do you think Celtic supporters should stop consuming Sky channels if they continue to hire Boyd as a pundit? Join in the discussion by commenting below!