Manchester United: Red Devils ready to challenge Chelsea in race for Kai Havertz if Jadon Sancho bid fails
Manchester United are in danger of missing out on Borussia Dortmund star Jadon Sancho this summer. 
Man United missed Dortmund's deadline to sort out a deal by August 10 and the 11-cap England international has rejoined his Bundesliga teammates for their pre-season training camp in Switzerland.
The Red Devils haven't give up hope of signing Sancho just yet, but Dortmund sporting director Michael Zorc has dealt Ole Gunnar Solskjaer a bitter blow.
He recently told reporters "we plan on having Jadon Sancho in our team this season, the decision is final. I think that answers all our questions."
Now, The Manchester Evening News claims United could turn their attention to Bayer Leverkusen's Kai Havertz instead.
Chelsea have emerged as top contenders to sign the 7-cap German international but United could still hijack the Blues' bid for him in the summer.
Frank Lampard's side are reportedly leading the race to sign the £90m-rated attacking midfielder, although it looks like the Red Devils are ready to challenge their Premier League rivals.
Should Man United sign Jadon Sancho or Kai Havertz?
Jadon Sancho
Kai Havertz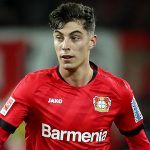 However, Solskjaer has insisted that Sancho is his top target, having chased the right winger for some time already.
While Havertz would be a cheaper alternative to the 20-year-old, he will not come cheaply either.
As far as Chelsea are concerned, Leverkusen's top scorer remains their primary focus before the start of the 2020/21 Premier League season.
Ed Woodward is known for many things but acting quickly is not one of them. The executive vice-chairman missed out on signing Cesc Fabregas and ended up paying over the odds for United flop Marouane Fellaini instead.
Dortmund are notorious for driving a hard bargain and are unwilling to sell Sancho for anything less than £108m in the summer. They famously sold Ousmane Dembele to Barcelona for £135m after rejecting a bid from Barca at the beginning of August 2017.
Both clubs are locked in negotiations but appear to be at loggerheads, while fans will have to wait and see how this poker game will play out, as the game is almost certainly afoot. The bottom line is if United want to sign Sancho then Woodward will have to break the bank.
United fans, will Woodward sign Sancho this summer? Let us know down below!