Manchester United: Journalist claims Ousmane Dembele talks are back on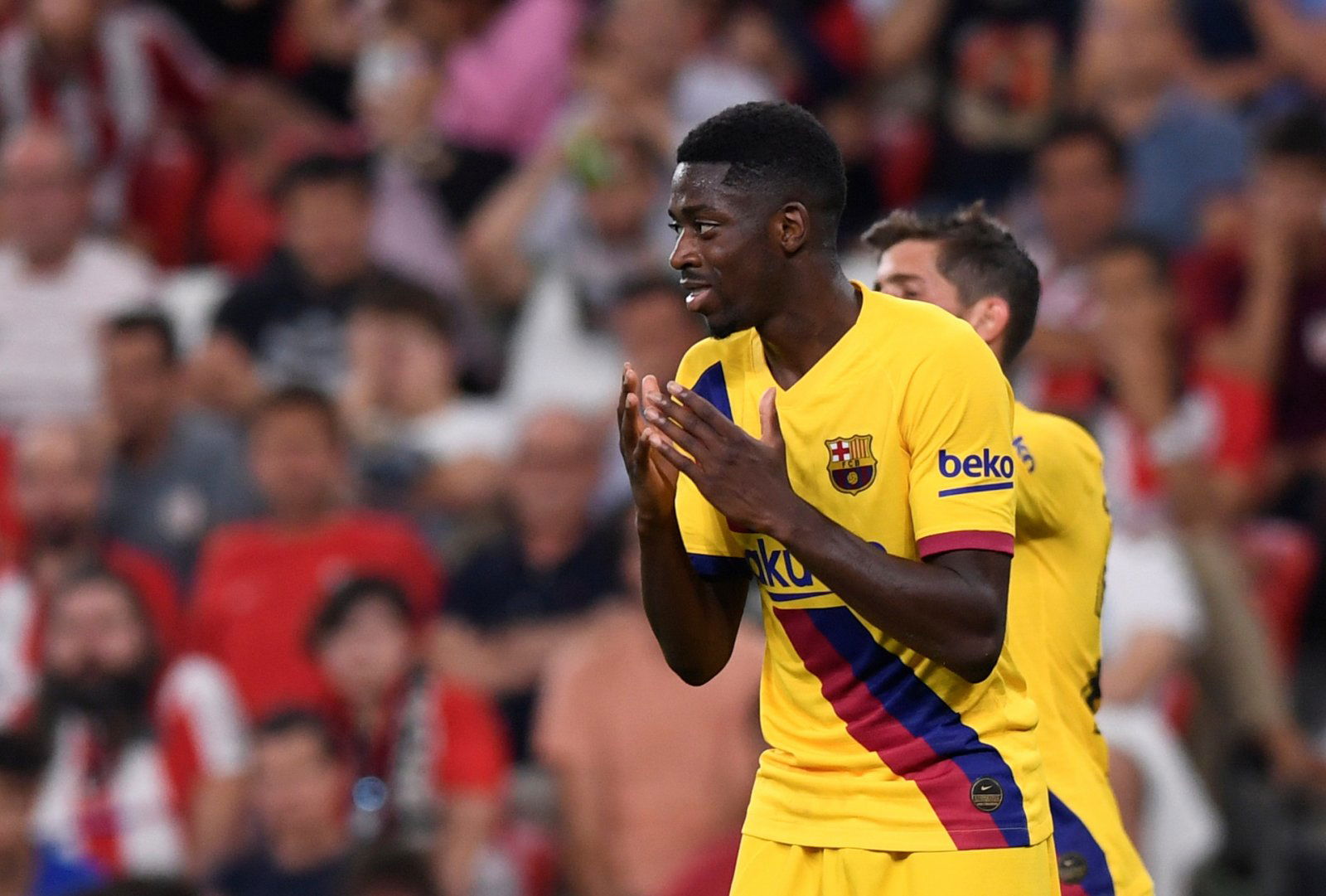 Many Manchester United fans have reacted after Italian journalist Fabrizio Romano claimed that talks between the English club and Barcelona are back on over a deal for Ousmane Dembele.
The French youngster has been largely frozen out in Spain by La Liga side Barcelona this term, playing behind the likes of Ansu Fati, Trincao, Philippe Coutinho, Pedri and Lionel Messi in the Catalan side's attacking front three.
Having struggled over the last few seasons with injuries, Dembele's impressions for Borussia Dortmund prior to his Nou Camp arrival seem enough to have convinced United to make a move.
Missing out on the chance to sign Jadon Sancho this summer, it did seem like United had also missed out on the chance to sign Dembele with Barca denying any contact with the Premier League club.
However, Romano now claims that a loan deal is being discussed prior to the transfer window's closure on Monday evening.
Talks between Manchester United and Barcelona for Ousmane Démbélé are still on – as also with his agent. #MUFC are still trying to get him on loan.

Koeman: "His future depends on what he thinks. I haven't spoken to him about his future. We'll see". [@HagridFCB]. 🔴 #transfers

— Fabrizio Romano (@FabrizioRomano) October 3, 2020
Here are just some of the responses gained from Romano's tweet from United fans over a potential deal for Dembele…
He allegedly said No to us two weeks ago. Don't know why we are so obsessed with him if he's already said no.

— Edryd Jones (Ed) (@edrydjones) October 3, 2020
The fact that we're even considering Dembele tells me that Woodward hasn't learnt his lesson. This has Falcao written all over it.
Since Ole came on board, we've been shouting about long term signings, culture etc.
Now what? #WoodwardOut @Kaus_Pandey17 @Haider_Rubbani

— Vineet (@bhiti_66) October 3, 2020
What if, this is a smokescreen by @manutd to pressure Dortmund to lower the price for Sancho. Next season, Sancho will have 2 years left on his contract and the price tag may depreciate to less than €80m given the impact of the pandemic which may affect Q1 2021.

— Akebaje♈® (@AkebajeOlajide) October 3, 2020
he's gonna get injured for the whole season g don't let the glazers get away with this

— ManlikeTobii__ (@Tobiiwae_) October 3, 2020
From Ronaldo, Neymar, Bale, Sancho, to Dembele 😭😭

— Caseythegirl (@caseythegirl1) October 3, 2020
SO the same as the Sancho situation for the past 6 weeks. I think Utd have done their business for the summer, now the focus is on trying to get players out the club be it only on loan.

— marcky (@marcky411) October 3, 2020
Do you think Dembele would be a good signing for United? Let us know in the comments section below…