Manchester United: Ed Woodward's comments over club trajectory spark criticism from supporters
Speaking at a recent fans' forum via BT Sport, Manchester United vice-chairman Ed Woodward has issued a pledge, suggesting that it is an 'overwhelming priority' to get the Red Devils back regularly challenging for Premier League and Champions League titles – but some supporters don't believe he is the man to help. 
United, who currently lie eighth in the Premier League having won just one of their last five league games whilst also bowing out of the Carabao Cup semi-finals, appear to have much work to do if they're to reach their once-lofty heights under legendary former boss Sir Alex Ferguson. Since Fergie's retirement, United have failed to win a league title or make decent headway in the Champions League despite winning a Europa League title back in 2017. Woodward, who has overseen many of the transfers during that period, is currently shouldering mounting pressure from supporters who are keen on their side challenging for major trophies again.
As a result, despite Woodward's pledge, many supporters have lambasted the vice-chairman's promises, which one fan dismissed as 'useless' – find all of their best comments from Twitter down below.
Woodward is so shameless!

— 👹Augustine Utd👹 (@AugustineUtd) February 10, 2020
7 years of going backwards, might be a time to start thinking your just useless.

— Dyl (@UtdDyl) February 10, 2020
It's been 7 years of downfall… when is he actually going to speak his words into action?

— Taz ❄️🔴 (@Tarum_7) February 10, 2020
We should be doing that now it's been 7 years since Woodward took over it doesn't take 7 years to build a championship winning squad #Glazersout #Woodwardout

— MUFC not PLC (@Utd_Glazersout) February 10, 2020
Needless to say, do we need to remind you of this

David Gill as United's CEO

2005 – 3rd
2006 – 2nd
2007 – 1st
2008 – 1st
2009 – 1st
2010 – 2nd
2011 – 1st
2012 – 2nd
2013 – 1st

Ed Woodward as United's CEO

2014 – 7th
2015 – 4th
2016 – 5th
2017 – 6th
2018 – 2nd
2019 – 6th
🤡

— Olas (@CEOlalekanOlas) February 10, 2020
— Chris Atkinson (@ChrisAt11521499) February 10, 2020
Will Paul Pogba ever play for Manchester United again?
Yes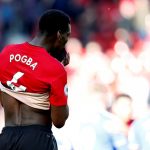 No
Do you believe United will get back to the summit of English football? Join the discussion by commenting below…