Manchester United: Fans slam David de Gea after Red Devils lose to Chelsea in FA Cup
Manchester United boss Ole Gunnar Solskjaer vociferously insisted David de Gea is the "best goalkeeper in the world" after he made another high-profile error this season. 
Solskjaer made this claim after De Gea managed to fumble a shot from Steven Bergwijn in the 1-1 draw at Tottenham Hotspur in the first game back since the Premier League restart.
Despite Solskjaer's defiant defence, De Gea's fortunes have not improved, as he made even more mistakes in Man United's 3-1 defeat to Chelsea in the FA Cup semi-final.
The Spaniard has made a string of major mistakes this season, which has rather undermined the manager's statement.
Who should be Man United's first-choice keeper?
David de Gea
Dean Henderson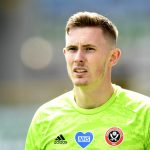 Without sounding too harsh, he was a total liability at Wembley, as United conceded three goals against a side that had only scored once in their previous two games.
His clumsy effort failed to deny Olivier Giroud's shot and gave Chelsea the lead, while his second error was far more frustrating. He made Mason Mount's strike look like a 20-yard screamer, when in actual fact, it was a routine shot which should have been saved comfortably.
With Dean Henderson knocking on the door, De Gea should be nervously looking over his shoulder heading into the 2020/21 Premier League season.
Naturally, many United fans slammed De Gea's performance by suggesting he is "finished", with one supporter stating Solskjaer was "stupid" for starting him over Sergio Romero, who had started every FA Cup game beforehand, while another called his statement "nonsense."
Scroll through some of the scathing reactions so far…
His selection was rubbish. Romero brought united to semi finals conceding just one goal in all d matches….yet he was dropped in place of Degea for the semis…Degea conceded 3 in just 70 mins..Ole did Romero dirty and he paid for it. Annoying coach

— Nato Nate (@okohdesmond) July 19, 2020
Nonsense

— Leksided (@Leksided200) July 19, 2020
He is finished, get rid of him

— Phutheho Ishmael Ncheba (@PhuthehoN) July 19, 2020
I can speak for his confidence….he hasn't got any. Clearly. Been making errors for 2 years. Sad truth is that he isnt worth his place. Cannot afford anymore mistakes. Romero has played in a world cup final. He is a top keeer

— Chesney Babbage (@cheshawks) July 19, 2020
'but that's football for you' isn't a good enough excuse. Play Romero for the rest of the season.

— Brad 🏴󠁧󠁢󠁥󠁮󠁧󠁿 (@Makkerz7) July 19, 2020
The was rubbish from ole😠😠…what stupid decision was that

— El'slizz Nation🇳🇬⚪ (@tipsy_mayana) July 20, 2020
De Gea didn't need rest but Martial did? Such a trash coach

— ABEI (@abeikuyamoah) July 19, 2020
United fans, do you think Solskjaer should drop David de Gea? Let us know down below!