Everton: Fans slam Carlo Ancelotti's decision to name Gylfi Sigurdsson as captain vs Brighton
Loads of Everton fans were left baffled by a decision from Carlo Ancelotti on Saturday, as the Italian boss named Gylfi Sigurdsson captain for the clash against Brighton.
The Toffees returned to winning ways with a 1-0 victory against the Seagulls, as Graham Potter's side just never really got going on Merseyside.
Richarlison was back to his best, coming close a couple of times in the first half before finding the breakthrough, as he curled a delightful finish beyond Mathew Ryan.
Dominic Calvert-Lewin could have doubled the lead in the second half but for a good stop from Ryan and the striker also had one ruled out by VAR, but in the end it was a deserved three points for the home side.
The result hasn't stopped fans from questioning the manager's choice of skipper though, and it's fair to say they have a point.
Sigurdsson has been heavily linked with an exit from Goodison Park this week after his horrendous showing at Anfield in the FA Cup defeat.
Of course, Ancelotti is one of the most experienced and decorated managers in world football, but fans can't quite believe his bizarre decision to reward the Iceland international with the armband…
Hey! We're gonna look to sell this guy. So let's start tim AND name him captain. Makes perfect sense!

— Blake (@BlakeEM_) January 11, 2020
Sigurdsson Captain. Wow.

This club is an absolute disgrace!

— Joe Williams (@Joewillo180) January 11, 2020
Sigurdsson??!!!!!!

— ben (@ben86065927) January 11, 2020
Sigurdsson captain this club is actually a joke

— Sayantan Bal (@sayantan_01) January 11, 2020
Sigurdsson has to be the worst Everton captain in history 👎🏼

— All Elite 👊 (@AIIEIite) January 11, 2020
Gylfi captain pic.twitter.com/mMudZoWQRw

— Just Dave (@SirDaveStephen) January 11, 2020
Keane, Walcott, Sigurdsson….. And making him captain 🙈 totally out of touch!

— Chris Everton Hanman (@ChrisHanman) January 11, 2020
Gylfi captain has completely blown me away 🤯

— 🇧🇷🇮🇸🇮🇹🇳🇬 (@FinKitch) January 11, 2020
Are any of Everton's players good enough for Ancelotti?
Yes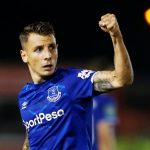 No