Liverpool
Liverpool fans on Twitter couldn't be more against claims that they miss Philippe Coutinho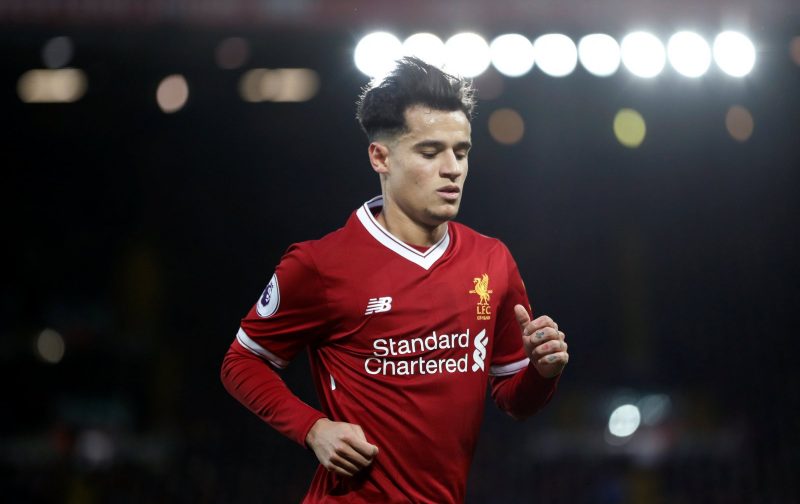 Considering that this time last year Philippe Coutinho was one of the stars at Anfield and was dragging the Reds through games on his own at times, to claim that Liverpool miss him now would be a fair assessment, although when Empire of the Kop tweeted an article explaining why they missed him, a lot of Liverpool fans jumped on it, rubbishing the idea that they miss the Brazilian.
Yes, we had to sell Coutinho. Yes, we got great money and reinvested it superbly on VVD. But the gap he left in the XI has actually been on display for months…
Follow me here: @Jordan_AC90 https://t.co/RHvQyEFyXy

— Empire of the Kop (@empireofthekop) 8 November 2018
Coutinho provided some unforgettable moments in his Anfield days. With his late winner against Manchester City in the Premier League title race in the 2013/14 season and his deft finish against Manchester United in the 2015/16 Europa League jumping to mind. However, he's now a Barcelona man and since he left the club, Jurgen Klopp has managed to reach the Champions League final and set up a team that looks like Premier league contenders.
Despite all of the German gaffer's achievements on Merseyside, there are still fans who claim their side has a 'creative void' that is yet to be filled since Coutinho left. Conveniently, these claims have only come up this season as the side have failed to fit top form and during their Champions League run last season very little was said about The Kopites missing Coutinho, meaning The Reds arguments here are perfectly valid.
You can read The Reds' thoughts on the Coutinho claims here:
We miss a player who play in this position, we didn't miss Coutinho when we had OX

— Ezzeddeen Hneineh (@ezzeddeenh_90) November 8, 2018
Stop this nonsense. We played with 10 when he played. Creative yes, but no goal line clearances, defensive headers or tracking back. Check the stats on losses when he played v not. We created a lot when he left in Jan too.. #findingexcuses

— Seanchail Kelly (@Sargeu23) November 8, 2018
This is rubbish. We actually got better after Coutinho left. Fair enough blaming Ox or Buvac. But we've even started the season better than when we had Coutinho

— Darren Charker (@charker_darren) November 8, 2018
We've never had such a strong start to the PL but we miss Coutinho, please explain…

— Ben Rice (@Ricey7) November 8, 2018
Nonsense, 6 months ago we were purring about how we didnt need him. A run of 4 or 5 wins and it'll be the back to that frame of mind. Too one dimensional with him at the time was the argument.

— Christy (@Killaconin) November 8, 2018
But hold on a second. We did not miss him last season until the champions league final. I think Klopff is still trying to find his best 11. Sure we miss Ox and perhaps Faquir should have been signed despite the risk?

— Simon Govey (@GoveySimon) November 8, 2018
Coutinho is not what we missed. The fluid football we used to play was greatly missed. We used to have Sadio, Mo and Bobby to create chances to score, however, all is totally missing now. I hope we sort this out by rotating Sadio and Mo as a forward striker or wing.

— SeanT (@SeanT321) November 8, 2018
Disagree 100%. We don't miss coutinho. We miss ox and, when he's not playing, shaq. We just need someone a little more creative and a little bit less about pace or power in the midfield now to balance us. And we do have them, they just need to play/recover

— Sam Ma'ayan (@SamMaayan) November 8, 2018
As you can see, the claims of missing Coutinho have gone down like a lead balloon amongst The Reds and they'll be looking forward to getting back to form and seeing these Coutinho claims disappear.
Like what the TT have on offer? Sign up for more notifications!