Maurizio Sarri's brand of football has been praised the world over, with the Italian earning praise from major players in world football, including Pep Guardiola. Guardiola has previously described Sarri's playstyle as 'perfection', and that's quite the show of faith from a man who is arguably the best in the Premier League at present. 
Clearly, then, big things will be expected of Sarri, but he's got one major mark against him that will undoubtedly cause concern – a lack of trophies. Unlike Guardiola, his trophy case is bare, and so his career thus far has been far from all sunshine and rainbows. To the contrary, he's been embroiled in numerous controversies, and his inability to win a trophy will be a cause for concern until it's no longer a reality.
That being said, at Chelsea he'll have a better chance than ever before. He's got a tremendous squad to choose from, and one or two handy additions would put him in a far better position. A busy few weeks are expected at Chelsea, and one player that has been linked with the Blues is Gonzalo Higuain – a Sarri favourite.
He's just the sort of player that Chelsea need, and his form over the years proves that.
Undoubtedly, his most prominent campaign in recent years came under Sarri at Napoli – and what a campaign it was.
He bagged a whopping 36 goals in just 35 appearances, earmarking him as one of, if not the single best forward in Europe and beyond. With a whopping 5.2 shots per game, it's no real surprise that he was scoring so frequently.
It wasn't just his goals, though. It was his work rate, it was his raw power, and it was his tenacity that made him so deadly for the Italian outfit. It's also those things that made him so popular with Maurizio Sarri, and that's a testament to his quality.
Last season, his stats match up, too.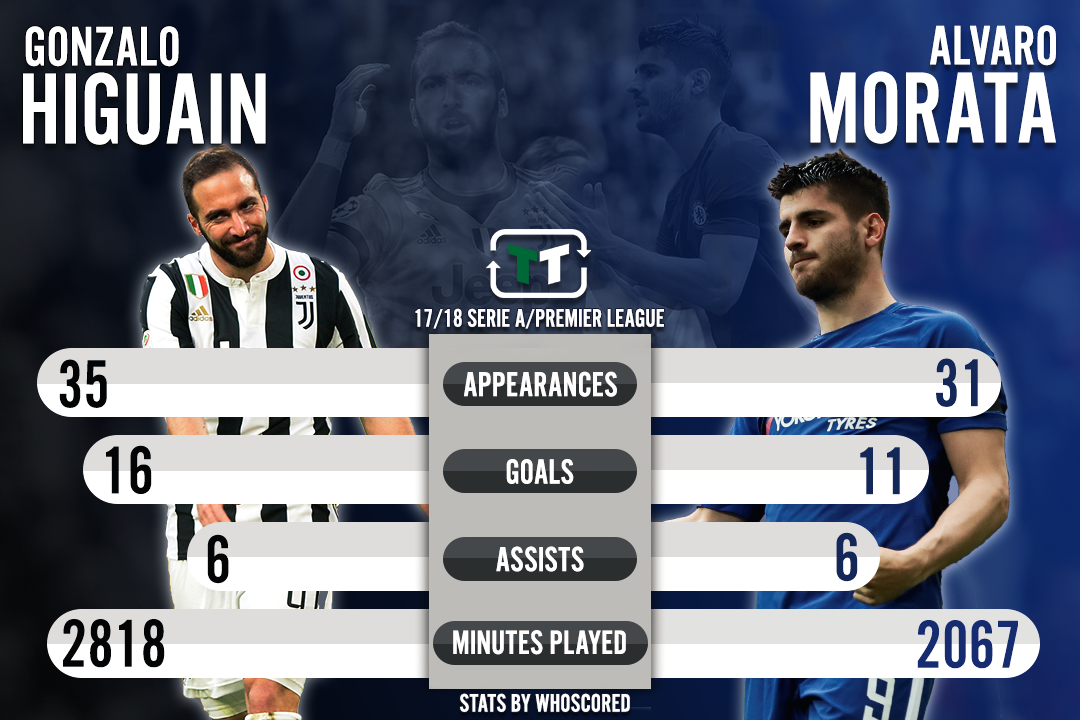 It was a poor campaign for Higuain, all told, yet he was so much more effective than Morata. He bagged 5 more goals, and he was instrumental in Juventus' run in the Champions League. The fact that he remained so deadly during a campaign that was otherwise considered to have been pretty poor speaks volumes about his quality.
On top of that, though, unlike Moratta, Higuain is a player that has been doing that for years. For Juventus, for Napoli and even for Real Madrid, Higuain has been a regular goalscorer of real finesse, and he's shown no sign that he is slowing down in terms of raw quality.
Where does that leave him, Chelsea and Sarri, then?
Well, one thing that Chelsea lack right now is a goalscorer. A player that can really help them out when they're in trouble, and a player that can really score when it's needed.
If Chelsea can get that, and if they can get Higuain, they could be on to a winner.
Chelsea fans – thoughts?
Let us know below!