These Liverpool fans were furious with Jurgen Klopp's half-time substitutions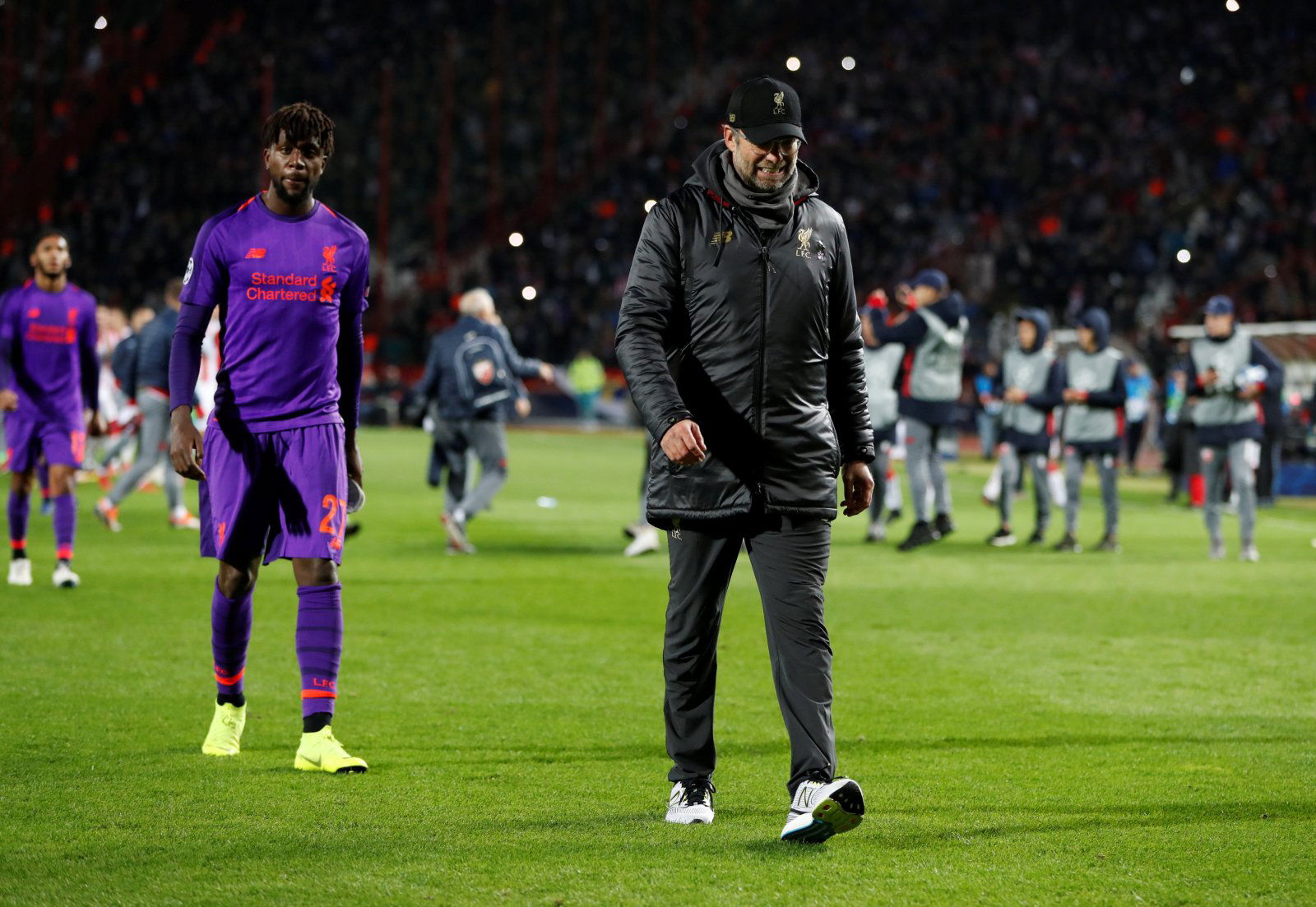 Liverpool suffered their most shocking result of the season last night as they were beaten 2-0 by Red Star Belgrade in Serbia – a result which blew Group C wide open with two fixtures left to play.
Indeed, Liverpool could have moved ever closer to securing their place in the knockout phase of the Champions League with three vital points last night, but instead they are now facing two intimidating looking fixtures at home to Napoli and away to Paris Saint-Germain to determine their fate.
It was a result which shocked the footballing world to its core and particularly the Liverpool supporters, and they took to Twitter to vent their frustration both during and after the game.
Milan Pavkov's emphatic first half brace put Red Star in full control at the interval, and Jurgen Klopp responded by making a double substitution as Roberto Firmino and Joe Gomez came on in place of Daniel Sturridge and Trent Alexander-Arnold.
It was a decision which was slated by plenty of supporters who were eager to see the ineffective Adam Lallana withdrawn, and they didn't hold back in their criticism of the Liverpool chief.
Here's what the Liverpool fans had to say about Klopp's half-time substitutions…
Yet Lallana remains…. enough of this guy.

— Josh Boyle (@jb_SID) November 6, 2018
What have those two changes done to help midfield. Lalana needed taking off,embarrassing.

— Ian moore (@iansmoore1967) November 6, 2018
Sturridge subbed instead of Lallana hahahahahaha

— Doctor Fgt (@Doctor_Fgt) November 6, 2018
Klopp picking easy targets to sub again No change there

— Taters (@Taters251) November 6, 2018
Klopp is the most clueless coach when it comes to substitutions.He is Wenger on steroids.

— SlumDawg (@CawntryBoy) November 6, 2018
Another 45 minutes for Lallana. Klopp must be crazy

— Plannie (@PKChemhere) November 6, 2018
Announce Klopp out!

— Vern Hahn (@tang_vern) November 6, 2018
Kloop is a flopp today, he has gone bananas

— Herbert Maebane (@HMaebane) November 6, 2018
Klopp has lost his mind!!!!!

— 23 (@ChrisEgor1979) November 6, 2018