Rangers: Fans hammer Nicola Sturgeon
Despite winning the Old Firm derby 1-0 on Saturday, Glasgow Rangers fans are far from happy with Scotland first minister Nicola Sturgeon following her failure to acknowledge the 50th anniversary of the Ibrox disaster at any point during the day.
The Gers defeated Celtic 1-0 at Ibrox to move 19 points clear at the top of the Premiership. It was perhaps fitting that such an important victory would come on this emotional day. On January 2nd 1971, 66 fans lost their lives at Ibrox in one of Britain's worst football disasters.
There were plenty of comments and commemorations for the anniversary, but Sturgeon's lack of acknowledgement did not go unnoticed by the Gers supporters. What makes it even more surprising is that she is actually the local Member of Scottish Parliament for Glasgow.
Were you surprised by this lack of respect?
Yes
No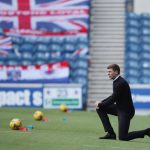 The Gers supporters were absolutely disgusted, and they took to Twitter to share their thoughts.
Let's see what the fans had to say about Sturgeon below
"@NicolaSturgeon is our national disgrace."
"She's a disgrace"
"disgusting"
"It's absolutely appalling and symbolic of the contempt she has for football fans and the working class in general. I'd like to see any SNP supporting Rangers fans justify it."
"Why are you surprised? She hates football and football fans even more. Look at the way she has treated the sport since last March. Shameful"
"No class, no style!"