Rangers: Fans hammer Jamie O'Hara claim
TalkSPORT pundit Jamie O'Hara has said that both Old Firm clubs would struggle to stay in the Premier League if they joined the division, prompting quite the reaction from Glasgow Rangers fans.
O'Hara was discussing what would happen if Rangers and their fierce city rivals Celtic joined English football's top flight. He clearly wouldn't expect too much from them, saying that they would struggle to survive amongst the elite. He even said that Fulham would win the Scottish Premiership.
Do you think Rangers would get relegated in the Premier League?
Yes
No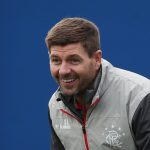 This does seem to be a rather outrageous claim. After all, Rangers are through to the Europa League round of 32 after topping their group – in fact, they even went unbeaten, drawing twice with Benfica. As you can imagine, the former Tottenham man's comments did not go down well at all with the 54-time Scottish champions' supporters, and they took to Twitter to share their thoughts.
Let's see what the fans had to say about O'Hara below
"Jamie Ohara is a clown"
Credit: @Graemeperry72
"Deluded clown the standard of midfielders celtic have sold have all been in the prem wanyama armstrong etc"
Credit: @stuarthaldane4
"Clueless. Rangers & Celtic would wipe the floor with most PL teams. When was the last time Fulham played European football? Nearly 10 years ago? lol honestly, Jamie should just go back to sleep"
Credit: @AzzurroWolf
"As a rangers fan, How can you say that dembele was ok at Fulham but sensational at celtic? Wasn't he like 18 in England? Don't think any of the teams he mentioned would do anything in Europe, Hes a clueless has been trying to stay relevant"
Credit: @EvanAlex95
"Exactly right. On slow news day theyll just say something ridiculous to wind people up. Im for discussion but some of the topics are ludicrous"
Credit: @jimshoe001
"Aye Jamie. I could see Fulham topping that europa league group aswell. Clueless"
Credit: @BarryMa30098078
In other news, Rangers fear losing this star.