Southampton: Fans rage at Ryan Bertrand decision
Southampton fans are enraged after a penalty was given against Ryan Bertrand for a handball against Wolves.
The Saints were 1-0 up thanks to a goal from Danny Ings and were in control of the game when the ball struck Bertrand's hand. The shot from Nelson Semedo was not taken too far away from the former Chelsea man, but the referee thought that the left-back's hand should have been closer to his body.
However, the Saints fans did not agree with that opinion. They were adamant it was a penalty, with many remembering the failure to give them a spot-kick against Aston Villa when Matty Cash committed a similar offence.
Do you think a penalty should have been given for Bertrand's handball?
Yes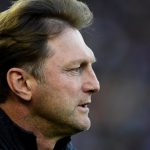 No
The Southampton supporters were enraged by the decision, and they took to social media platform Twitter to share their thoughts.
Let's see what the fans had to say about Bertrand handball
"What more can Bertrand do there? His hand is tucked in and it's lashed at him from 5 yards. Game is absolutely gone"
Credit: @Dan_Baz_Collier
"How can Bertrand get out of the way? Disgrace."
Credit: @upthesaints
"The referee exactly spot-on with that decision, according to the rules. But what on Earth could Bertrand do more to get out of the way? The rules don't make sense #saintsfc"
Credit: @matt_kempez
"VAR is not the issue. It's the plonkers that are using it. What was Bertrand meant to do there? The standards of refs in the Prem really is awful! #SOUWOL #PremierLeague #poor #referee"
Credit: @Rikancell
"Once again #VAR is inconsistent… the ball is blasted at Bertrand, no chance to get out of the way, whereas VAR turned down the potential penalty for #saintsfc at Fulham where the player moved their arm towards the ball and it wasn't given – sort it out"
Credit: @StephenMills1
"How was Bertrand meant to avoid that? Absolutely mad decision #SaintsFC"
Credit: @dave_merritt
In other news, Saints fans react to these Adam Blackmore comments.