Liverpool: Fans are divided over update on Divock Origi's future at the club
Divock Origi has been tipped to remain at Liverpool this summer, with a replacement viewed as something of a high expense.
Kevin Palmer has given his verdict on the Belgian's position at the the Merseyside outfit and feels he's unlikely to be going anywhere this transfer window.
Should Liverpool keep or sell Divock Origi?
Keep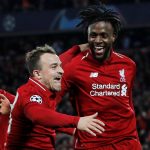 Sell
The Sunday World reporter has described Origi as a good back-up for Liverpool's attack and thinks it would be 'expensive' to replace him should they sell up. However, the Reds may be swayed if a big money offer comes in for his services, but this seems unlikely given the current financial climate.
The 25-year-old initially joined Liverpool in 2014 for £10million from Lille (via BBC Sport). Although he has been second favourite to Roberto Firmino, Origi has established himself as a cult hero across the fanbase for his contributions in Liverpool's sixth Champions League title glory.
A lot of fans are divided over this take though as they have split opinions on whether Origi is indeed a good back up. One supporter has tweeted that they're going to be 'very disappointed' next season when the £14.4million-valued man is their only senior substitute up front.
However, another Kopite thinks 'we need his luck' when it comes to big games like Liverpool's phenomenal comeback against Barcelona.
Read more replies from the Anfield faithful here:
Great back up ? Dear me we really are going to be very very disappointed this transfer window.. forget next season these players are going to be burnt out

— Scott Easton (@Scottea29426991) August 10, 2020
We need his luck

— Wing Man (@wingmanhk) August 11, 2020
I like Divock and am willing to give him one more season to see If he can really kick on….but what's been said here is the stupidest thing I may have seen. https://t.co/avptFJIIy4

— stricky (@strickyfootball) August 10, 2020
If you can't improve the team, no need to weaken it.

— EPL CHAMP19NS (@Kwartzi) August 10, 2020
Nobody can afford to buy god

— Mentality Monsters (@parkthebus8989) August 10, 2020
great backup? guy has been subbed on like 30 times this season without scoring

— Alex🦋 (@lfcalexx) August 10, 2020
Do you think Liverpool should sell Divock Origi or hold onto him? Let us know your thoughts in the comments below…