Everton
Everton: Fans react as Richarlison adheres to Silva's demand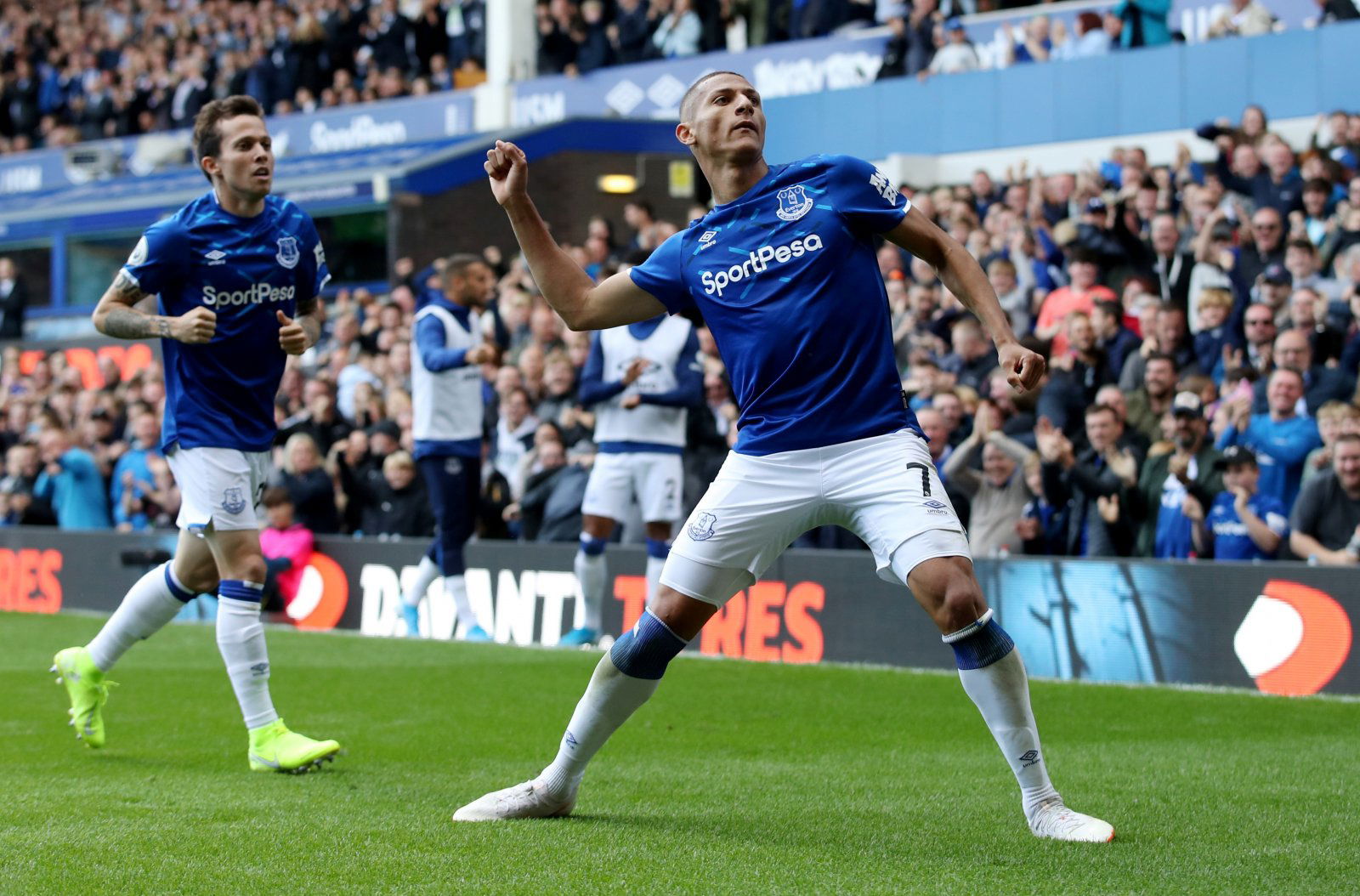 Everton supporters have been pronouncing their growing admiration of Richarlison, after the Brazilian forward shared his desire to break down the language barrier Marco Silva had voiced his concerns on.
Silva has been clear to any player signed for the Toffees since his arrival at Goodison Park that they must learn to speak English fluently immediately following their transfers, so that the team can communicate with one another in a cohesive language.
His demands were first issued to Richarlison upon the forward's arrival at Watford, however, the winger's ability to pick up the new language has not been fast enough in the eyes of his head coach.
"Richarlison is not as good as I'd like but he's trying every day. [Yerry] Mina also," Silva told reporters in August, via quotes by The Guardian. "With Richarlison, Mina and Bernard, it's a little bit better because they have had more time.
"But with Mina and Richarlison, we would like more from them. Their levels are a little bit better [than when they started] but not like we would like. This is something we demand from them, because this is one of the keys for them to adapt faster and to understand everything that's happening around them every single day."
Richarlison revealed last November that he uses English films on Netflix to familiarise himself with the language, and that the analysis and commentary on Match of the Day was aiding his ability to understand English football terms.
"I watch things on Netflix and other English films to help me improve my language skills," Richarlison said, via quotes by the Liverpool Echo. "But when it comes to understanding how to talk in English about football, I always watch Match of the Day.
"I go home after games to watch the highlights with my friends and I listen to the commentary and to the experts. After the games, I go home to watch it live. My mates at home always put it on to watch."
The 22-year-old has now once again shown his desire to further his ability to speak English, after posting a picture on Twitter showing himself with textbooks and paperwork in a seemingly empty canteen at Finch Farm.
Ao vivo Hahahah pic.twitter.com/ohFauKvOTI

— Richarlison Andrade (@richarlison97) September 2, 2019
His post came as a reply to ESPN Brazil journalist Joao Castelo-Branco, who recently asked the 13-cap international about his desire to learn English following Silva reiterating his demands for players to learn the language.
It did not take long for Everton supporters to begin reacting to Richarlison's post, many of whom loved it…
If the thought of Richarlison doing his English lessons in a probably empty Finch Farm canteen doesn't make you love the fella that little bit more I don't know what will https://t.co/lHym6abETU

— The Toffee Blues (@EvertonNewsFeed) September 3, 2019
Silva called him out, saying he should have done it by now.

— Dan (@danholling) September 3, 2019
Absolute love this guy everything about him since the day he came through the door he has been class

— Bryan Green (@Bryangr73821538) September 3, 2019
For me personally over the last few months with all of his off and on field actions has genuinely made him my favorite everton player, he just gets the club and looks like he loves the club.

— Harry Wilkinson (@HarryWilko1) September 3, 2019
Probably already at a more advanced English level than Barkley ever was

— Matthew Roberts (@robertsmatty90) September 3, 2019
He's already past stage 2, which is where Ross got to.

— Paul Newman (@MysticNodule) September 3, 2019
If he keeps scoring, I think everyone else should learn Portuguese.

— Doug T (@cincinnati3way) September 3, 2019
all he needs to learn is
"over ere lad on me head, whip it in and il bury it"

— ste cant (@stecantwell) September 3, 2019
I think he be with us for a very long time as long as we do well on field which I think we will this a soon and as long as Silva is manager then he here to be a Everton legend in the making #nsno

— stephen phillips (@stevephillps81) September 3, 2019
Like what the TT have on offer? Sign up for more Everton notifications!