Rangers: Jordi Gomez takes record off Kemar Roofe
Glasgow Rangers striker Kemar Roofe score a record-breaking goal against Standard Liege last week in the Europa League, but that has already been outdone by Omonia Nicosia's Jordi Gomez.
Roofe beaten
The 'Gers beat Liege 2-0 in their first game of this season's group stage as Roofe sealed the victory with a stunning strike. He beat the goalkeeper from 55.4 yards, making it the further distance from which a goal has been scored in the competition's history.
However, last night, former Wigan Athletic midfielder Gomez went one better. His effort from his own half came from 61.2 yards from goal, eclipsing Roofe's record.
Nothing to be ashamed of
As you can imagine, Roofe was unable to repeat the trick despite starting against Lech Poznan – his goal against the Belgian side was a once-in-a-lifetime moment. He would have likely been hoping that his record would last longer than just seven days, but sometimes there is just nothing you can do about it.
Who scored the better goal?
Kemar Roofe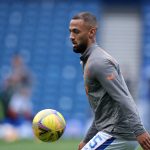 Jordi Gomez
Former Premier League player Gomez is now 35 and you would assume that he does not have long left in his career. This goal could very well be one of his last contributions to football – at least 27-year-old Roofe still has plenty of time to add some more magical moments in his career.
In other news, Borussia Dortmund want this Rangers star.