Everton: Fans flock to European Super League update
Many Everton fans have been left to flock to an update on the Premier League clubs that tried to join the European Super League (ESL).
As per the Daily Mail, the Goodison Park faithful as well as Newcastle United are leading a push for the Big Six teams to be punished for seeking to join the ESL.
Would Everton have joined the ESL?
Yes
No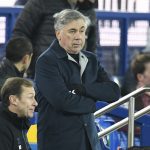 Both sides are lobbying for points deductions on the grounds that fining the billionaire owners would be an empty gesture.
However, there is an acceptance among the other clubs that such a sanction, would not be practical as it would drop them in a lengthy legal battle, as the top flight look to assess their options.
It is unclear whether those points deductions would come at the end of this season or at the start of next if approved, but either way it would benefit the Merseyside club as it would give them a much better opportunity of finishing in a Champions League place.
Regardless of this, a lot of Toffees supporters seem to feel as if those teams should not go unpunished, with points deductions seen as a reasonable option in doing so.
Everton fans on ESL update
These Blues flocked to the update as it was shared on Twitter, with one EFC supporter even going as far as to call it 'excellent':
"Too right.  Pocket money fines mean nothing. Other clubs have had deductions. #dockthempoints. You could still have a parade for coming 6th. #dontstoptheparty."
"Get in Everton… stick to your guns.. these sly 6 seem to have been forgotten by the media…"