Arsenal fans on Twitter left frustrated by Sokratis injury blow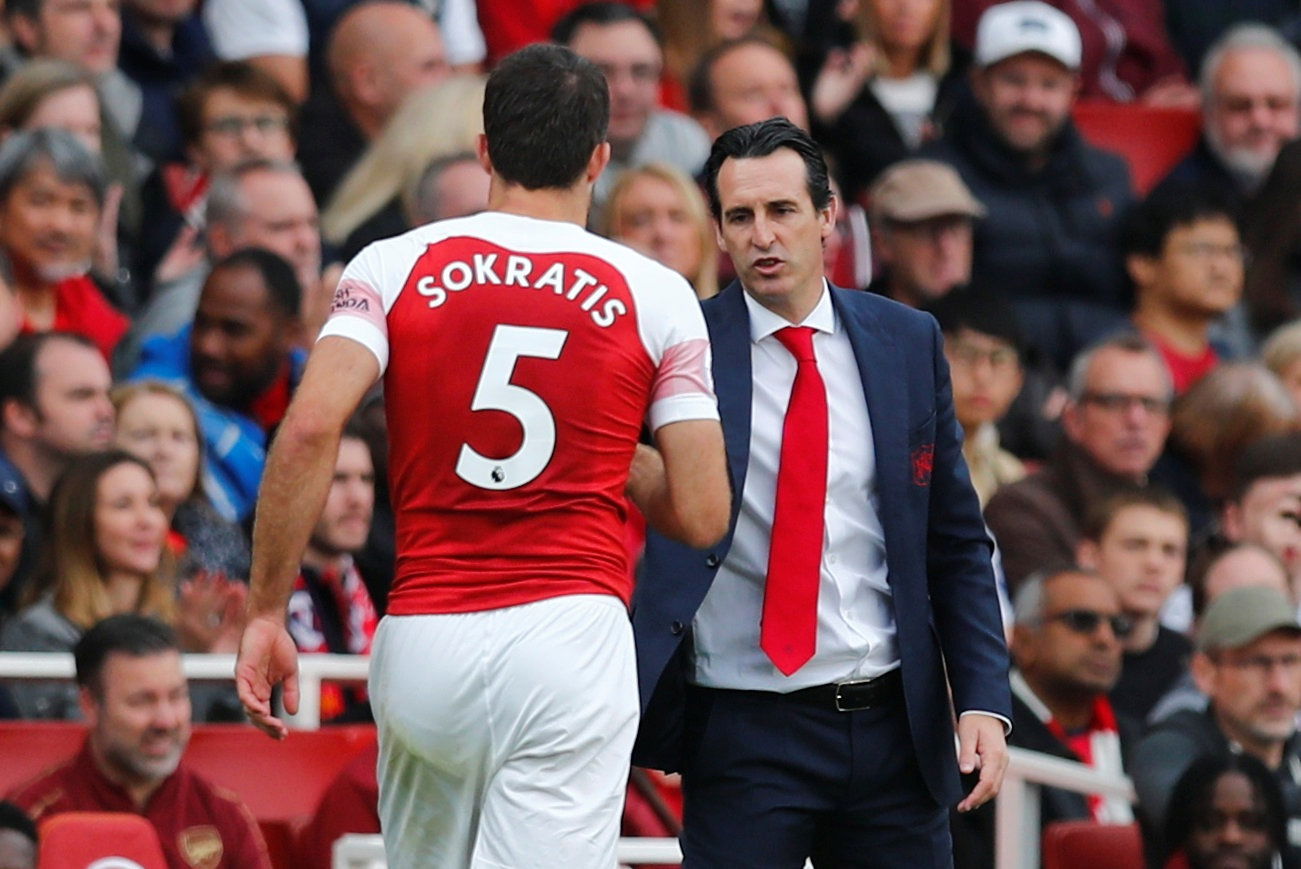 All of the big Premier League clubs seem to lose players to injuries over the international break. Tottenham have lost Victor Wanyama, Liverpool have lost Mo Salah and now it seems, according to The Metro, that Arsenal have lost Sokratis Papastathopoulos.
Sokratis picked up a sprain and had to be taken off in Greece's 2-0 win against Finland as per Gazetta Greece. Extent of injury unknown. #afc

— LTArsenal (@ltarsenal) 16 October 2018
The news of the Gunners' latest injury woes was broken first by Gazetta Greece, although it didn't take long for a number of other outlets to cotton to the fact that Arsenal would have to face Leicester City without the Greek colossus. Now it looks like Unai Emery will be forced into playing Rob Holding and Shkodran Mustafi, seeing as the pair are his only available centre-backs for this Monday night.
The extent of the ex-Borussia Dortmund man's lay off is still unknown and the fans only know that for a definite he will be forced to miss out on Monday's game with Leicester. If the injury is a serious one, the Gunners will have to take comfort from the fact that Laurent Koscielny is on his way back from the ruptured achilles he suffered back in March, which would give Emery another option at the heart of his defence.
You can read The Gunners' verdict on the Sokratis setback here:
— Robin Vincent (@Robin_vincent7) October 16, 2018
Holding | Mustafi should hold up fine till he and Kos return

— amy (@amyampaire) October 16, 2018
— Narcissistic Pyro (@ian_the_cow) October 17, 2018
What is meaning of this now! He came back not long ago. Who called him for international matches, he need to rest Go on Holding

— Ololade (@ololadeHod) October 16, 2018
Last thing we need. He was the most solid of the back line.

— Chris Guanabacoa (@ChrisGuanabacoa) October 17, 2018
What is all this na!!!..I really hate international breaks.. Arrrrrrrgghh!!!!!

— GOLDEN (@irep_golden) 16 October 2018
I knew it. I saw it coming.

— El-Nino (@Mcpeter042) 16 October 2018
The Gunners will be fuming that Sokratis is now out, although they'll be hoping that it's not a serious injury and their man is back as soon as possible.