Everton: Toffees could miss out on Isco transfer
Carlo Ancelotti's Everton could soon miss out on the chance to sign Isco from Real Madrid because of potential complications, report Sport in Spain.
Sport in Spain have recently released an update about the situation of Isco, saying that Everton are one of the clubs that are looking to sign the Spaniard in the upcoming January transfer window. But the article goes on to talk about why a deal may not happen next month.
Everton and Arsenal chasing Isco
The report claims that a number of clubs are after the Spanish midfielder and this includes Everton and Mikel Arteta's Arsenal. Sevilla, Milan and Juventus are also mentioned as potential suitors. Having said that, the Toffees are yet to make an attempt to sign the Real Madrid man.
Should Everton move on from signing Isco?
Yes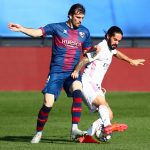 No
The report also states that while Isco would like to depart in January, Real aren't willing to let the midfielder leave and would demand a high fee to sell the former Malaga man. It is said that Zinedine Zidane still has a liking for Isco.
Another complication is Isco's wage demands. He currently earns around £6 million a season and that isn't something clubs can readily afford.
Ignoring Isco might be best for Everton
The article from Sport also talks about the fact that Isco's physical condition has deteriorated over the last two seasons and that is one reason why he isn't quite a pivotal member of the Real Madrid first-team. His fitness record over the last few seasons hasn't been great and he doesn't have a clean injury record too.
That should ring alarm bells for Ancelotti, who has previously had Isco as a player at Real. So because of the Spaniard's questionable fitness, it would be best for Everton to move on from the 28-year-old.
In other news, the Athletic have released an update about Ancelotti's future at Everton. Read more about it here.