Man Utd fans would finally see Mourinho smile again if Boateng arrives
It's been a very tough summer for Jose Mourinho. The Portuguese has made no secret of his frustration relating to his side's inability to upgrade sufficiently this summer, whilst he's also been frustrated at the delayed returns of many of his players following their respective World Cup duties.
Last season was a good if unspectacular one for the Red Devils. They finished second in the Premier League, their best return since the departure of Sir Alex Ferguson, but even in that success, there were flaws.
In reality, the Red Devils never really challenged at the top of the Premier League, with the title race as good as over by the time 2018 rolled around. Numerous problems within the squad halted their development, with Paul Pogba failing to dominate games and negative tactics preventing the continued dominance of Romelu Lukaku, Marcus Rashford et al.
Perhaps their most significant problem, though, came in the defence. On the flanks and through the middle, their problems were evident – and Victor Lindelof wasn't the solution needed after he moved to Old Trafford last summer. A lack of defensive solidity, in the end, began to really cost the club, and that's something they're still yet to solve.
We come back, then, to Jose Mourinho's transfer market frustration. The Red Devils have only signed a couple of players so far this summer, and none of them are central defenders. Perhaps, then, Mourinho could be satisfied with the acquisition of such a player, and so reports linking the club with a move for Jerome Boateng, via the Telegraph, have been well-timed.
Boateng – who is rated at £40.5 million by Transfer Markt – could, in fact, be just what the Red Devils are looking for.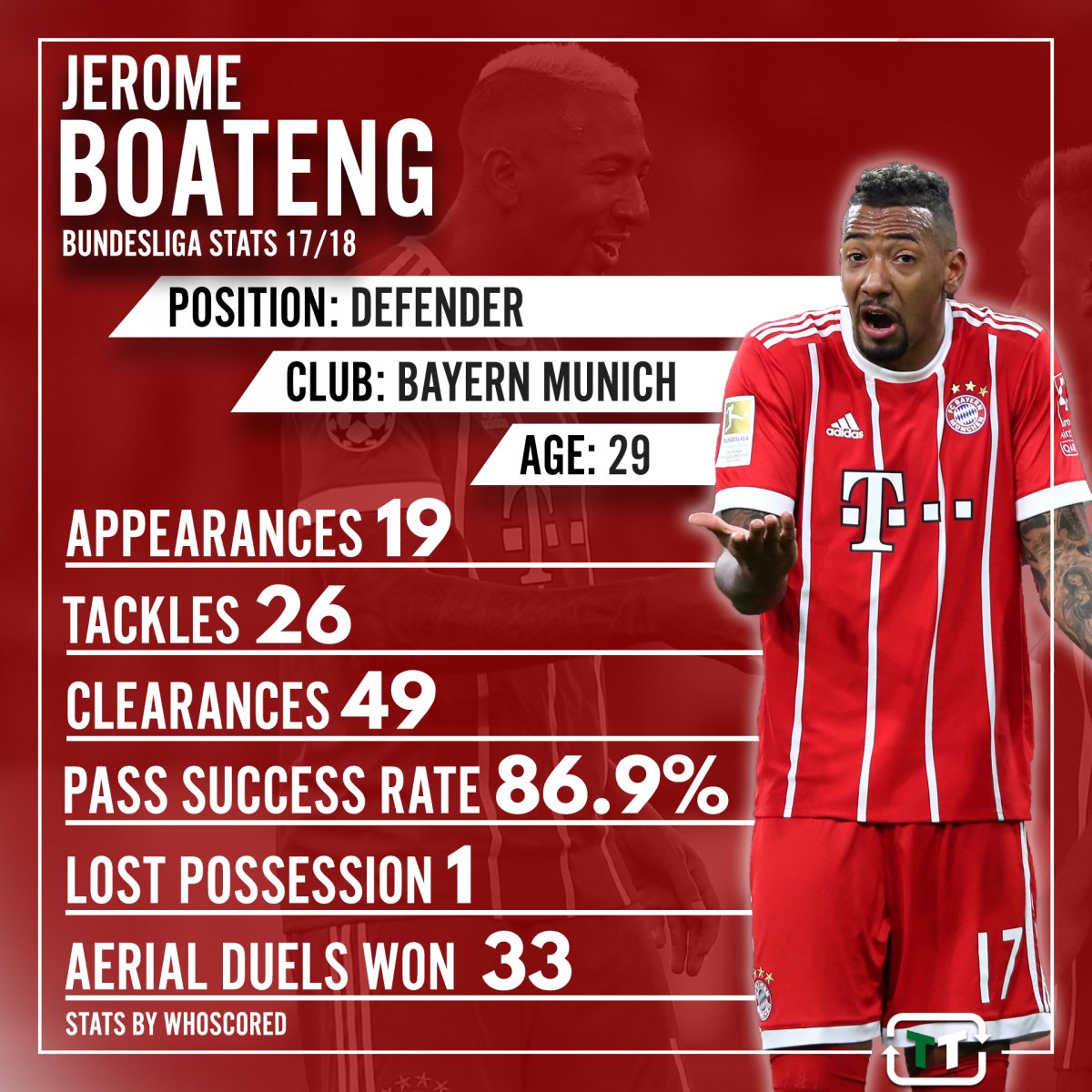 After all, Boateng's career speaks for itself. After a fairly nomadic start to his career, the German found a home in Munich, joining Bayern Munich in 2011 from Manchester City. There, he quickly went from a decent defender into an outstanding one, impressing in particular with his calming persona at the back, as well as his consistent performances.  After a year, he won his first Bundesliga title, and thereafter the floodgates opened.
Bundesliga titles, DFB-Pokal medals, and others, joined a Champions League trophy win during the following years, and he's since won six Bundesliga titles. Naturally, then, he knows how to win, and that's a trait that is sorely lacking at Old Trafford.
As spectacular as his trophy case is, though, it's his quality on the field that Jose Mourinho will be attracted to most, and with good reason. The German is a spectacular defender, offering brilliant defensive ability on a consistent level. You don't, after all, become one of Europe's most decorated defenders without having that ability.
A brilliant tackler, excellent in the air, exceptional positional sense and, to match, excellent ability with the ball at his feet, the German offers the perfect balance of everything that a defender needs. It's that last point that is important for Man Utd, as though the likes of Eric Bailly and Victor Lindelof are decent, neither can hold a candle to Boateng with regards to his technical ability, and in the Premier League, that's a trait that is quickly becoming essential.
Last season was, by no means, a perfect campaign for Boateng, but many of his statistics still scream top defender. He made 26 tackles in just 19 games last term, whilst he made 49 clearances and won 33 aerial duels – indicating the sort of all-around talent he can provide. His ability on the ball is also evident by the fact that he lost possession just ONCE last season – meaning that he'd be a much-needed reliable option at the back. Furthermore, with a passing accuracy rate of nearly 87%, there's no doubting his ability when the ball is on the ground.
Jose Mourino has always been a manager that looks to build from the back. That was the foundation of his success at the likes of Inter Milan, Real Madrid and, in particular, at Chelsea. He hasn't had that luxury at Man Utd yet, given the lack of quality. In Boateng, though, he'd have one of Europe's best defenders, and so the Portuguese will finally have what he's looking for – a proven option that can finally help him enjoy life back at Old Trafford. Mourinho is at his best when he's a happy manager, and he's not had much to smile about this summer. Being backed with a signing of Boateng's quality, though, would certainly be a good start.
Man Utd fans – thoughts?
Let us know below!