Brendan Rodgers has done a great job of building a strong team at Celtic. The Hoops have really grown as a squad under the managership of Rodgers, and with every passing season, they seem to be getting stronger and stronger.
Even this season, the Hoops have managed to finish the calendar year at the top of the table, despite a lot of pressure from Rangers, and they'll be looking to stay there for the rest of the season and beyond.
Given the might of Celtic, though, they won't just be looking ahead at the rest of the season. Instead, they'll be looking at next year and beyond, and that topic has become an issue of particular significance this week, as one of Celtic's most important players has been linked with a summer move away.
The Scottish Sun reported this week that James Forrest is a target of Liverpool, with the Reds potentially looking to improve their options this summer.
It's always going to be difficult to keep a top player like Forrest out of the clutches of a huge team like Liverpool, but one thing is certain: the 27-year-old simply must be a Celtic player next season.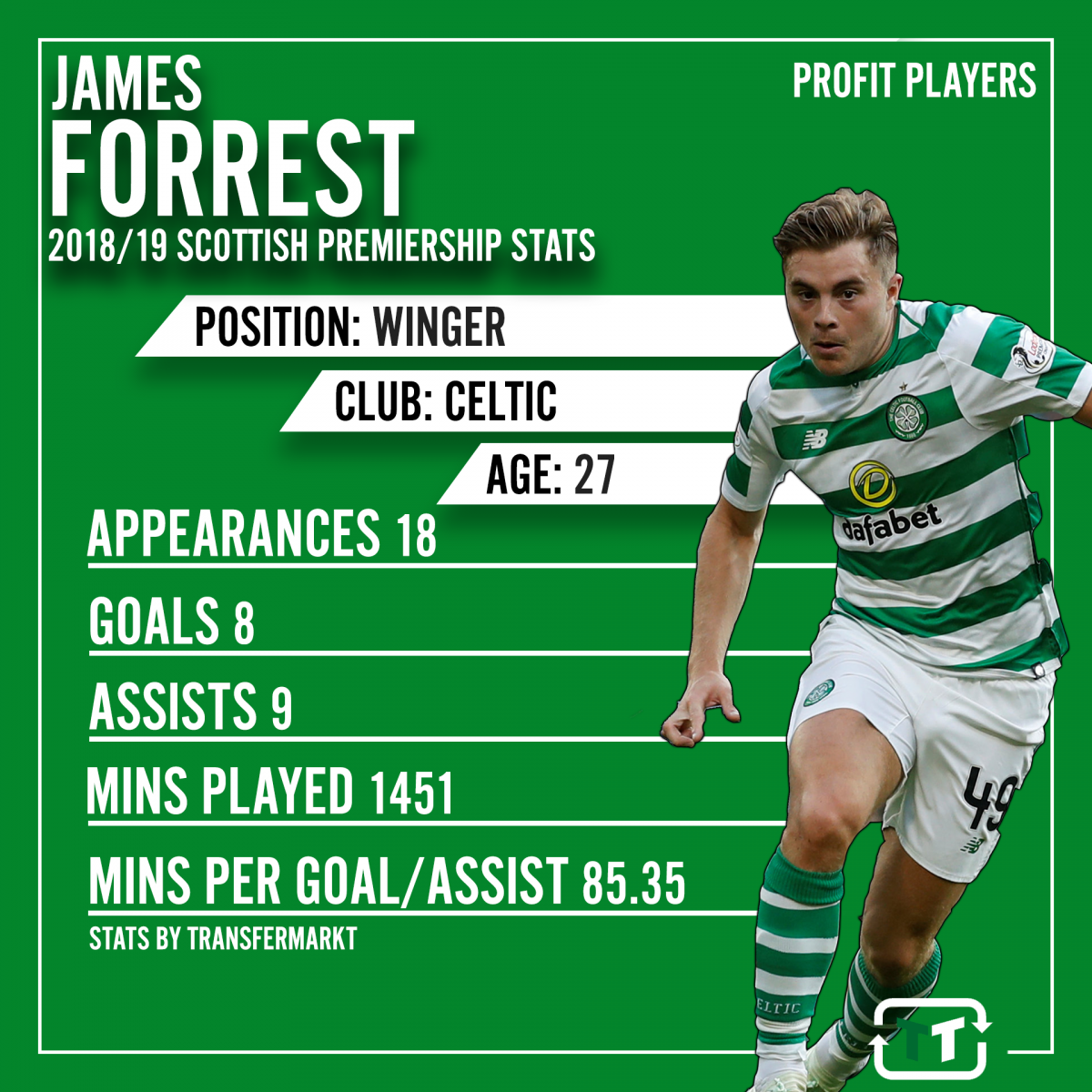 After all, it's common knowledge at this point, but there's no denying just how important Forrest is to this Celtic team. He's been a regular this season, and without a doubt, he's been one of Scotland's best players. He's scored and he's assisted, and that's one thing, but perhaps more so, at least from the perspective of Brendan Rodgers, you'd expect, is the effort that he puts in. Given Jurgen Klopp's high-press style, this is likely what has put Forrest on the German's radar, too. The winger is a hard worker and always puts in 100% effort, and that's the sort of trait that players can't learn – they've either got it or they haven't.
Forrest is also particularly important given the consistency that he offers. The Celtic attack has been somewhat inconsistent this season, with players like Scott Sinclair and Odsonne Edouard blowing hot and cold so far. Forrest, meanwhile, has always been a real threat down the flanks, and there's no telling where Celtic would be without that consistency.
At 27-years-old, too, it's not like Forrest is at one end of the spectrum as far as his age is concerned.  He's not so young that Celtic don't know how he will develop, whilst he's also not too old to the point at which his career is winding down. At 27-years-old, he's in the prime of his career, and Celtic have put in the hard work to develop him, and now he's rewarding that work with brilliant performances. To sell him now would negate all of that effort, and it would rob Celtic of years worth of Forrest at his best.
Keeping James Forrest at Celtic must be priority number one for the Hoops, as he's invaluable under Brendan Rodgers. He's only getting better, and without him in the team, Rangers would be far closer than they are to snatching the title from under Rodgers' nose.
Thoughts?