Southampton: Fans react to Saints' ESL statement
Fans of Southampton have been reacting to a post on Twitter, in which Saints relayed their statement regarding the now-collapsing proposal of a European Super League.
In a statement posted on the club website, Southampton confirmed that they are in "complete opposition" to any plans for a breakaway league, and that club shares the feeling of its supporters in that the proposals involving the so-called big six sides were "borne from a position of greed" as well as "fear of true competition."
The club also claimed that it will do "everything in its power" to prevent the plans from becoming reality, alongside the Premier League, the British government and the governing bodies of European and world football.
However, after Southampton shared their statement on Twitter, fans of the club flocked to have their say on the matter, with many appearing furious at the timing of Saints' tweet, as the statement came a number of hours after it was already rumoured that Chelsea had pulled out of the ESL, and not long before all six Premier League sides had completely withdrawn.
By contrast, the likes of Everton and West Ham had shared their disgust at the ESL idea much earlier on Tuesday, drawing massive praise.
Should Saints have issued their statement earlier?
Yes
No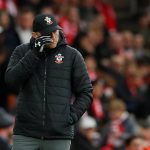 So, what exactly did these Southampton fans have to say in reaction to the club's statement?
"Shambolic that it took so long."
"Being the last club to issue a statement on this is not something to be proud of lads."
"So, in the end, we published this *less than an hour* before the English clubs announced they were leaving anyway."
"Bit late lads."
"See we are as gutless off the pitch as we are on it at the moment. Basically wait for it to fall then strong condemnation. Shambles."
"Issue a statement after the idea is in the bin already. Well done lads."
In other news: Reports from Germany reveal interest in key Southampton man; claim 15% chance of summer exit – find out more here!